12 Latinx-led startups joined 1871 in late October for a 12-week accelerator program co-facilitated by 1871 and the Illinois Hispanic Chamber of Commerce. As they progress through the cohort program and prepare for their Demo Day March 1, we'll be posting Q&As with each company on the 1871 blog to introduce them to the community. This week, Ramon L. Rodriguez, Founder and CEO of Collaborate.biz, talks about his platform that matches businesses with strategic partners, which he describes as "LinkedIn meets Match.com."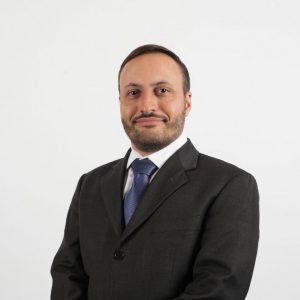 Tell us a little bit about your personal history and background.
I was born and raised in Puerto Rico, but have been calling Chicago my home on and off for the past 12 years. Growing up in a tight-knit Latino community, I was often surrounded by small businesses owners who, despite the odds, consistently worked day in and day out to make a better life for themselves, their families and their neighbors.
My professional background is in technology and brand management, working for some of America's largest companies. However, I've always had a fire inside me and a desire to build something new from the ground up. Prior to working on my startup, I often channeled that fire by volunteering my skills to help non-profit and small business owners.
Tell us a little about your company. What's your elevator pitch?
Collaborate.Biz is a platform that matches businesses of all sizes with strategic partners that share compatible goals, target similar customers and offer complementary products. You can think of our platform as "LinkedIn Meets Match.com," only instead of helping people date, we help business owners to network more efficiently.
How did you come to join the cohort?
I learned about the cohort from a former colleague of mine who is an 1871 alumnus. At the time, I was looking to make the leap from a corporate job, and the cohort provided me with the final nudge I needed take the plunge. I was especially attracted to being part of the 1871 community, the quality of the mentors supporting the program and the opportunity to partner with IHCC -- an organization that serves the same type of customers that I am looking to help.
What has your experience been so far?
The experience has so far exceeded my expectations. I am particularly impressed by my fellow cohort members, and quite frankly, I feel that I have a lot to learn from each of them. We also benefit from the wisdom of top-notch guest speakers who candidly share their war stories, lessons and triumphs. The staff's dedication to the program is second to none, and the commitment from senior leaders of both 1871 and the IHCC is demonstrated every single day. I feel very honored to be part of this cohort.
What about the program do you think will help your business the most? How will it help your business?
The access to mentors and the connections they will bring are by far the most helpful aspects about this program for my business. As a solo entrepreneur with primarily a corporate background, I need all the guidance I can get from people who have been down this road before.
Where do you see your business at the end of the program, and what is your ultimate goal for your company after that?
My most immediate goal is to quickly build our user base. I have an aggressive goal to get 1,000 business to sign up to our service by the time the cohort ends. Ultimately, I would like for collaborate.biz to become the first place businesses go to when looking to build strategic alliances with other companies.
What's the greater good your company is trying to accomplish? How will it impact the community? What problem does it solve?
Our mission is to level the playing field between small and large companies by revolutionizing the way businesses connect and collaborate with each other. Per the Small Business Administration, there are 28 million small businesses in the U.S., and many of these businesses rely on partnerships with other businesses to obtain client referrals, cross-promote their products, pool resources and reduce costs.
Unfortunately, the process of finding strategic partners is time-consuming, awkward and at best, hit or miss. For example, many networking events can feel like a waste of time and money because they require busy business owners to step away from running their business, pay expensive fees and work a room full of strangers, most of whom will not have any meaningful impact to their success. Cold calling is also inefficient because it is difficult to tell which businesses would be open to form strategic alliances with your company. Finally, tools such as LinkedIn are not designed to make the process of finding new strategic business partners easy, relying on existing relationships within each user's network to help them build new connections. We believe that by helping businesses find strategic partners, we can help them become more successful and our communities stronger, especially in the emerging "gig economy."
Give us a little insight into your perspective on diversity in the tech community. Why is it important? What do you hope to see?
Technology matters to the extent that it helps improve people's lives or solves important problems. Diversity in tech helps bring newer and better ideas to the table by inviting new perspectives and ensuring that we address the needs of as many people as possible. It is also a tool of economic empowerment, helping bridge the divide affecting many parts of our country. My hope is that over time, we will not only have more diversity in tech, but also a more diverse set of role models who will in turn inspire future generations of entrepreneurs. America is stronger when more people can see technology and/or entrepreneurship as a realistic career option.
Is there anything else you would like to add or say?
Please join our platform! For a limited time, you can join for free at www.collaborate.biz. Also, feel free spread the word to other businesses.
Follow Ramon and Collaborate.biz on: LinkedIn | Facebook | Twitter