Last Friday, Mayor Rahm Emanuel visited 1871 for a press conference and to tour this digital startup center. The Mayor and his team have been huge supporters of the effort to build 1871 - particularly his CTO John Tolva, CIO Brett Goldstein, and World Business Chicago - especially Director of Technology Development Dan Lyne.
The Mayor first visited the Code Academy class with Mike & Neal: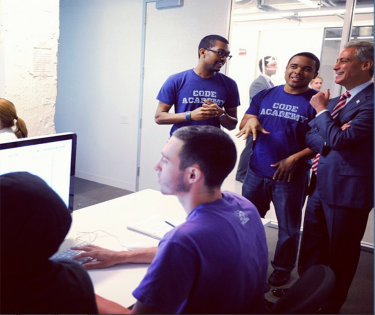 And then spent time with startups while walking through the space like Jeremiah at Groovebug: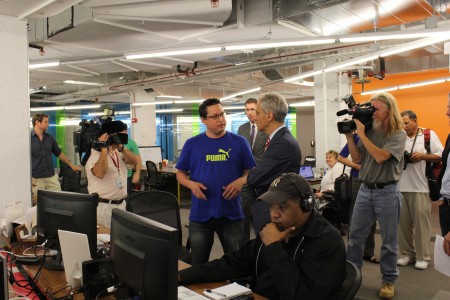 At the press conference in the 1871 auditorium, Mayor Emanuel announced a doubling in the ThinkChicago program to 100 students in partnership with Chicago Ideas Week and the University of Illinois. Guests speakers included the founder of Chicago Ideas Week, Brad Keywell, and the President of the University of Illinois, Dr. Robert Easter - both of whom have been big supporters in building 1871. In addition, a recent graduate of IIT, Neil Gupta, who grew up in Silicon Valley, spoke about his experience in ThinkChicago last year and how it gave him the tools and connections to stay in Chicago to build his startup - Tabule. If you know some awesome students, please encourage them to apply to ThinkChicago now!