Today we are thrilled to launch the 1871 Store, a swag hub for the makers, doers, builders and thinkers of the Chicago tech community who wear their pride (literally) on their sleeves. The custom designs represent the diverse and evolving culture of 1871 and capture the unique "get it done" spirit of our community.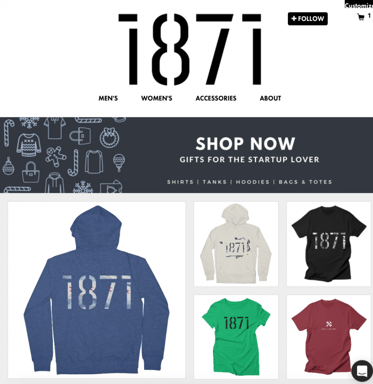 With hundreds of combinations of colors and styles to choose from, merch in the 1871 Store is great for everything from personal wardrobe additions to team gifts. From the classic 1871 Stencil logo to a host of Chicago-focused items, there's something for every last person in the Chicago tech community and all of their family and friends.
In addition to the designs available at our launch, we'll continuously be adding new items and options as the store expands. Have an idea? Email vanessa@1871.com. All feedback, creative ideas and suggestions are welcome.
In the meantime, go grab your swag. Oh, and one more thing. For the month of December, all t-shirts are just $18.71.