The $2.5 million, 25,000 square foot expansion of 1871, the Chicagoland Entrepreneurial Center's flagship project, creates space for alumni companies, venture capital firms, and a number of industry-specific incubators, accelerators and programs.
CHICAGO (October 16, 2014)—Governor Pat Quinn joined 1871 CEO Howard A. Tullman and 1871 founder J.B. Pritzker yesterday to celebrate the official opening of 1871's expansion space. The $2.5 million expansion, funded by the Illinois Department of Commerce and Economic Opportunity (DCEO), will increase 1871's current size by 50 percent and create space for alumni companies, venture capital firms and several incubators, accelerators and programs. In total, the new space will allow 1871 to house approximately 400 companies within The Merchandise Mart. The announcement is part of Governor Quinn's agenda to create jobs and drive Illinois' economy forward.
"The growth of our technology and innovation sectors are helping to drive Illinois' comeback," Governor Quinn said. "Since its inception, 1871 and its alumni companies have created more than 1,000 jobs and this new space will allow the hub to expand and create more high-tech companies and good jobs right here in Illinois."
The expansion project allows 1871 to provide offices to alumni companies that have outgrown their current space but wish to continue to grow within the 1871 environment and utilize 1871's programming and resources. In addition, the new space will house several venture capital firms seeking to engage the Chicago market. It also allows 1871 to develop a number of industry-specific incubators, accelerators and programs in the critical areas of food technology, real estate technology, education technology, financial technology, the Internet of Things, startup engineering, veteran-owned technology businesses and women-owned technology businesses.
"1871 is committed to continually raising the bar in terms of its opportunities for members and service to Chicago's entrepreneurial and technology communities," said 1871 CEO Howard A. Tullman. "The primary goal of 1871 is to foster the innovative new technology businesses that are crucial drivers of Illinois' job and economic growth, and we sincerely appreciate the Governor's consistent support for this mission. This expansion is an important component of our ongoing efforts to provide an extensive set of resources and facilities to our member companies."
"Companies at 1871 are building the next generation of Chicago's economy," said Mayor Rahm Emanuel. "This expansion will provide the space necessary to meet the demand of Chicago's rapidly growing tech industry. It is critical we continue to provide resources, establishing an environment that attracts talented people and thriving companies to our city."
Thus far, 1871 has announced the official launch of eight new programs that will open or grow with the expansion space, including:
The Bunker: the nation's first veterans-exclusive technology business accelerator, which will harness the leadership experiences of veterans as a strategic differentiator for startup and early stage veteran-owned, technology-enabled businesses.
LEAP Innovations: an incubator that seeks to foster the development of the best learning technologies by supporting startups that create these technology products and programs for key learning gaps and helping pilot these technologies in real-life learning environments.
The DeVry EdTech Incubator: an incubator designed to help startups develop new educational technologies to accelerate innovation in teaching and learning by offering mentorship, coaching and access to DeVry's network of educational leaders.
The Elmspring Real Estate Incubator: an incubator supporting startups that leverage technology to create solutions for complex challenges throughout the real estate industry. Elmspring seeks to foster clever and innovative concepts that disrupt traditional models in real estate and its related industries. 1871's real estate technology incubator space is sponsored by DTZ.
The Impact Engine: an accelerator program fostering companies that aim to deal with societal and environmental challenges by providing dedicated programming, including one-on-one mentorship, guest speakers, business workshops and team building exercises.
The Startup Institute: a career accelerator that utilizes practitioner-led instruction and a hands-on curriculum to help participants develop the mindset, network, and skills to find and succeed in a job at a startup.
The Good Food Business Accelerator: a fellowship program focused on encouraging broad-based food entrepreneurship and leveraging technology in the food industry. Operated by FamilyFarmed.org, the GFBA will be the nation's first business accelerator focused on building supply chains of sustainable local food.
WiSTEM: a program for women-owned and operated technology businesses. In addition to its complete access to the 1871 community and all of its resources, WiSTEM will offer a rigorous yet flexible program to foster and support women entrepreneurs.
"1871's expansion creates new opportunities for us to collaborate with Chicago's best education technology startups and advance teaching and learning," said Senior Director of DeVry Education Group Jeff Dunn. "We could not be more excited about this opportunity."
1871 was launched in partnership with the state of Illinois on May 2, 2012. The original 50,000 square foot space was constructed through a $2.3 million state investment. To date, 1871 has graduated over 40 companies, who have collectively created over 500 jobs and raised over $40 million in venture capital funding.
"The expansion is a tremendous opportunity for my company," said Learnmetrics CEO and Co-Founder Julian Miller. "We were growing rapidly and looking at what the next phase of our company would look like, and we were starting to think we were going to have to trade off some of the benefits of being in a space like 1871, but then they announced the expansion. Being a part of that, you get to drive forward what this next phase is and help give feedback. Ultimately we think it will be a tremendous partnership."
The expansion comes after news in August that employers added 13,800 new jobs to the Illinois economy. During the last five years, Illinois has added 263,100 private sector jobs. These new positions have been created at small as well as large businesses in the state.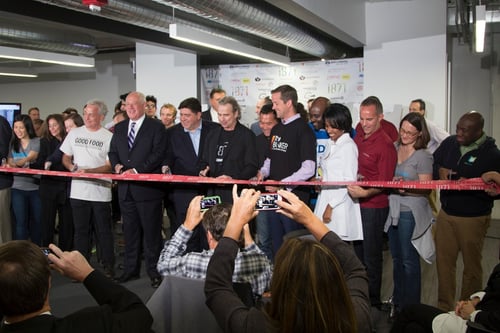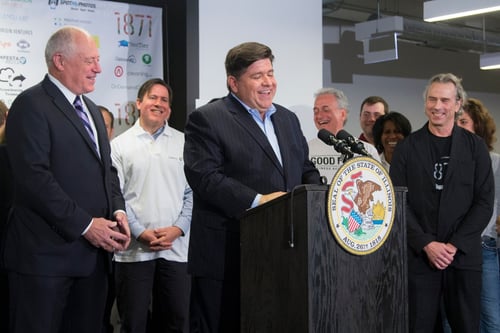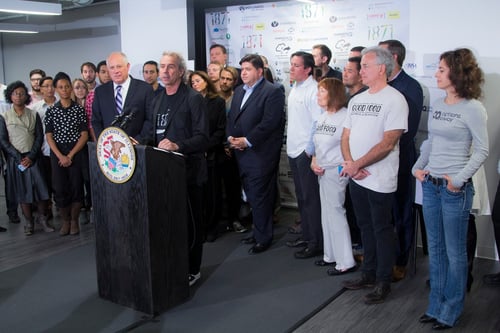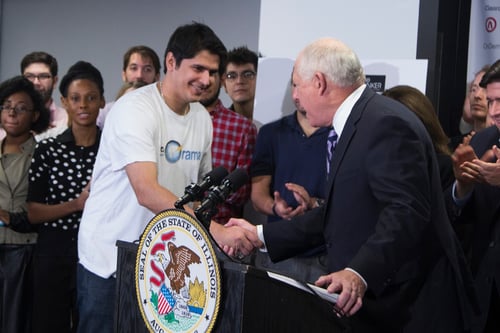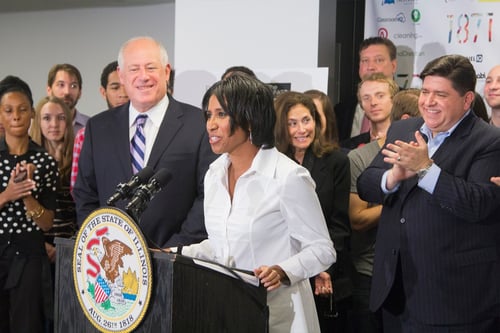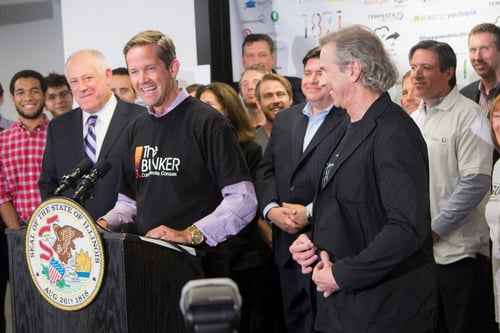 ###