What's it like to be the youngest employee in a fast-growing startup? That's a question that Alexa Jackson, Marketing Manager at AE Marketing Group answers in today's guest post. Here are Jackson's five tips for young team members in today's startup world.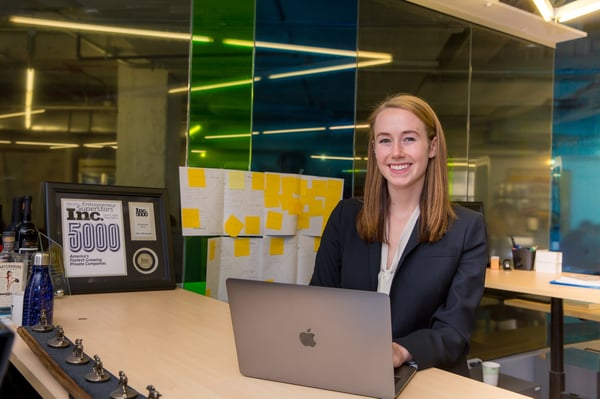 Photo Courtesy of AE Marketing Group
Guest Author: Alexa Jackson, Marketing Manager, AE Marketing Group
For the third year in a row, AE Marketing Group has been named to the Inc 5000, a list of the fastest growing companies in America. For me, working in such a fast-paced and rapidly-growing environment has been both exhilarating and intimidating.
In celebration of our third year on the list, I want to share five lessons that I've learned as the youngest team member at a fast-growing startup.
Be Prepared (and Dressed) for Anything
Every single day at a small, rapidly-growing, startup looks different and that means you may have no idea who you will meet, when you may have to pitch your company, or when you could be called into an important meeting with a bigwig executive on any given day. Since "being adaptable and ready for anything" is pretty much part of your job description, you will need to be ready at all times to put your best foot (and nicest shoes) forward.
Going off of number one, when you work in a rapidly growing but relatively small company, no day will be the same and you will wear hundreds of hats. Your job title will most likely be fluid and one skill set will not suffice. As intimidating as this sounds, especially when you're young, it is important to let this inspire instead of demoralize you. In one week I could be working on designing a company logo, copywriting the script for an ad, editing a new blog post, scouting and photographing a possible video shoot location, creating social media content, account managing a client project, or pitching ideas at a new business meeting.
As the company grows, your job title will warp to accommodate the skills needed at that time. This means that you have to become comfortable with being uncomfortable. As you are pushed, stretched, and tested, you will develop more character and perspective. When you're young in your career, this much experience and expose within one position is invaluable. The only problem is fitting it all on a single business card.
In a fast-paced environment, it is easy to get overwhelmed. But it is so fricken cool to know that you are a major player in moving an entire organization forward. Every milestone, big or small, is incredibly important and every success should be celebrated.
It can be intimidating to voice your opinion in a room full of people, especially when they are all older than you. But as my boss always says, no one has the monopoly on good ideas. This is especially true in a fast-growing startup. Everyone around you, including the CEO oftentimes, is learning as they go. They are learning about new technologies, new strategies, new trends, new platforms. So, if you have an idea or a suggestion, voice it. If you think of something that isn't being done but could greatly benefit the company, bring it up. Even though you may not think it's possible, your suggestion might be the solution your boss has been looking for.
Surround Yourself with People that Inspire You
You will need mentors and people to look up to because some days will be hard and some days you won't know what the answer is. Surrounding yourself with people who have gone through, or are going through, similar journeys is both encouraging and educational. 1871 has been a great workplace for me because of the young talent surrounding me. I see people everyday who are my age and are on their own entrepreneurial journeys. It is an inspiring ecosystem that celebrates everyone's success and pushes everyone forward.
The opinions expressed here by 1871 guest writers are their own, not those of 1871. To learn more about AE Marketing Group follow this link.