1871 ranked first in the world in the 2018 UBI Global list of Top University-Affiliated Business Incubators and will be celebrated today in an international ceremony in Toronto. UBI Global utilizes an international research team that analyzes and benchmarks business incubators based on a wide range of factors, including their value to members and overall economic impact.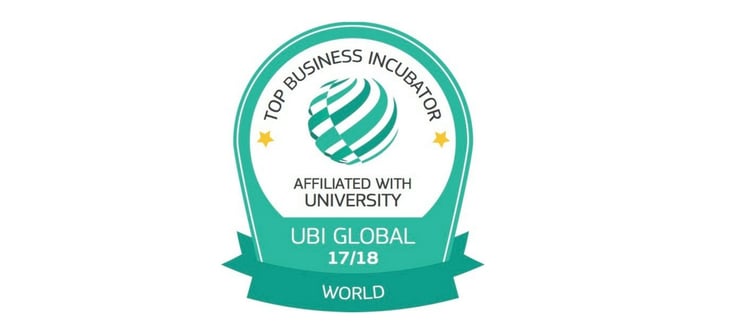 Previously, 1871 was ranked fourth in the world, second in North America, and first in the United States.
According to UBI Global, a top university-linked incubation program is a business incubator or accelerator connected to an institution of higher education that achieves outstanding impact and performance relative to its global peers. UBI takes into account the value that the program provides to its innovation ecosystem and its client startups, as well as the overall effectiveness of the program itself. 1871's longtime partner İTÜ Global, an incubator based out of Istanbul, ranked third in the same category.
Being recognized by UBI Global as the top university-affiliated business incubator in the world is an exceptional honor. 1871 will continue to go above and beyond expectations by offering our hundreds of member companies a truly world-class working environment, state-of-the-art technology, the best educational resources, mentorship from top industry leaders, access to prospective investors, and networking events to help local entrepreneurs develop successful technology businesses, create jobs, and make a positive impact on Chicago's economy. We look forward to another successful year of continuing our progress for our members, partners, and community." —Howard A. Tullman, CEO, 1871
The information in UBI Global's rankings helps incubator managers from around the world successfully run their programs by allowing the managers to see best practices, areas requiring improvement for specific business models, methods of effectively utilizing operational budgets, and strategies to attract a new client base. Additionally, the rankings help governments, investors, and early-stage companies understand where the top incubators are located for certain industries.
"In our latest World Benchmark Study, 1871 has -- once again -- demonstrated that it is one of the best university-linked business incubation programs in the world. Achieving outstanding results across all assessed impact and performance dimensions and an impressive track record of successful client and alumni startups, 1871 has become a central hub and major pillar of the Chicago entrepreneurship ecosystem." —Holger Meyer, Director of Research, UBI Global
Since its inception in 2012, 1871 has had a tremendous impact on the local landscape that has continued to grow. Home to eight university partners and a number of accelerator programs and early-stage venture firms, 1871 hosts over 1,000 events a year and its schools have trained more than 500 graduates in coding, design, and cybersecurity. 1871 member companies and alumni have raised over $280 million and have created more than 8,000 jobs.
With a focus on community, 1871 adds value to its local innovation ecosystem by attracting investment and talent from both within and outside of its geographic area. To develop relationships between local stakeholders, startups, and large corporations, 1871 has built an environment where larger institutions, including 1871's university partners, collaborate to invest in local businesses and share innovative new ideas. Furthermore, 1871 cultivates economic and business development in Chicago by offering guidance and support for the area's aspiring entrepreneurs and young companies.
"1871 has been instrumental in the growth of Chicago's now-thriving tech sector through its visionary and innovative support of thousands of businesses and mentorship of countless entrepreneurs. Today, UBI Global recognizes what we already knew -- 1871 stands alone among incubators, and its impact can be seen in the jobs, ideas, and talent created and developed throughout Chicago every day." —Chicago Mayor Rahm Emanuel
1871 has launched major initiatives to build a community that reflects all of Chicago's diverse communities including the Hispanic Technology Incubator in partnership with the Illinois Hispanic Chamber of Commerce; ChiBuys, a first-of-its-kind program supporting women- and minority-owned food vendors; and WiSTEM, an accelerator program for women entrepreneurs, whose more than 70 companies have created over 250 jobs and raised nearly $10 million in capital. As part of this mission, the 1871 team strives to make diversity and inclusion a core focus in its recruiting efforts, events, programming, membership, and every other facet of the organization.
Another major area of impact is 1871's far-reaching community efforts. 1871 currently holds a three-year partnership with Young Entrepreneurs Academy (YEA! Chicago), and has facilitated a pilot program at Walter H. Dyett High School for the Arts featuring entrepreneurship classes taught by 1871 CEO Howard A. Tullman. Recently, 1871 launched two major local event series to educate and inspire the community: Accelerate Your Startup Idea, made in partnership with tech giant Apple, and Chicago Made: Innovating For Tomorrow, made in partnership with global retailer UNIQLO.
As a university-affiliated incubator, 1871 maintains close partnerships with leading universities in the Chicagoland area. Northwestern University, The University of Chicago, University of Illinois, Loyola University Chicago, DePaul University, Trinity Christian College, and the Illinois Institute of Technology all have dedicated spaces at 1871 where students and faculty come to work on their businesses and immerse themselves in Chicago's entrepreneurial community. 1871 continues to work with new university partners and has launched a joint professional development program with Columbia College Chicago to provide Columbia students with hands-on job experience. Additionally, 1871 hosts Campus 1871 -- the largest event collaboration of the year between 1871 and its university partners -- which welcomes approximately 130 students for a weekend of startup 101 crash courses and mentorship, culminating in a business pitch competition. This year, Campus 1871 will take place at 1871 from April 13 through April 15.