1871 is like the Hotel California: You check in, but you never leave. Even as a company gets its own offices or a member receives an opportunity elsewhere, you're forever tied to the 1871 ecosystem. No partner embodies this more than Designation, 1871's resident UI/UX bootcamp.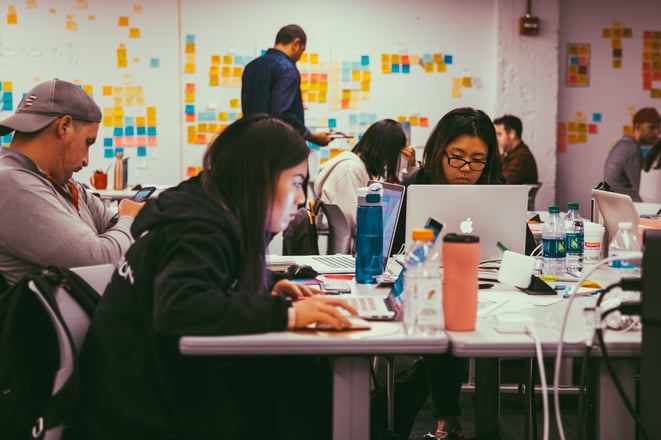 There are two mantras that are very familiar in the 1871 community.
First, 1871 is like the Hotel California. You check in, but you never leave. It's how we like to say that, even as a company gets its own offices or a member gets an opportunity elsewhere, you're never really apart from the 1871 community.
Second, we like to say we eat our own dog food at 1871. By this, we mean that as much as possible, we engage with the startups and individuals at 1871 building amazing products and services and use them ourselves.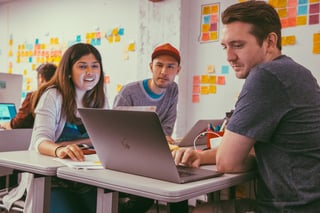 One of the partnerships at 1871 captures the heart of both of these philosophies -- our constant work with UI/UX bootcamp, Designation. Since May 2015, Designation and its 70 hour per-week 12-week cohorts have spent time in our space, learning the ins-and-outs of user interface and user experience design, with students bulking up their portfolios and accomplishing projects for real world clients.
The education and experience students get from the intense 12-weeks is amazing in itself, but where the real magic of the two mantras come into play is within the connections made throughout the 1871 community. Through our corporate partners, 1871's own initiatives and the startups throughout the space, the graduates of Designation cohorts have found themselves continuing their journey at 1871.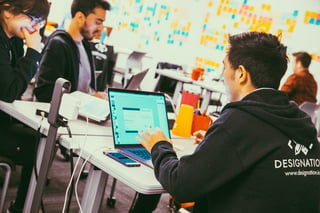 Let's start with eating our own dog food. This year, 1871 brought the production of our Annual Report -- an extensive, 54 page document highlighting statistics and successes for the year -- in house. In need of a talented designer who could work from scratch and with a scrappy team, we found Kit French, a recent Designation graduate. Her attention to detail and total creative adaptability were key, and in July, we released the report, which we think is our best yet.
Another example was the redesign of the 1871 Member Portal, one of the most important resources that members have in order to access workshops, office hours, conference rooms, and other benefits. 1871 again entrusted the design of that resource to a pair of Designation students, Riana Melendez and Briet Tornes. Riana and Briet conducted user research to better understand the needs and expectations of the 1871 member community, then leveraged their findings through multiple design sprints to produce progressively more impressive wireframes. Ultimately, the process resulted in a total redesign of the Member Portal, which 1871 implemented in January 2017.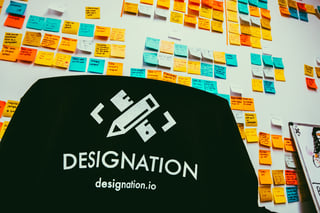 Now comes the Hotel California that is 1871. With 500 member companies, there's a constant need for talent to help design, build and launch projects from across all industries. It didn't take long for recent Designation graduate Ronaldo Noel Puno to come back into the 1871 fold, as he joined IHCC/1871 joint accelerator cohort member DealerFox. Another grad who has found a bevy of work within the 1871 community is Natalie LeRoy, who has recently worked with OdeonHub, Smync, Evolve Security Academy, Beescribe, and ParkerGale.
"One of our best and most successful differentiators as a bootcamp is our Client Phase, where we provide design work for live clients," said Designation partner and Community Director Mike Joosse.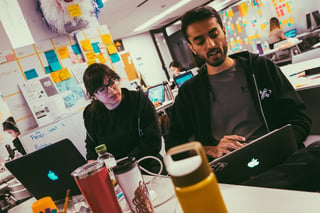 "It gives our cohorts the chance to get experience they can get almost nowhere else in a bootcamp setting: the chance to solve real problems with real business stakeholders. These clients come from incubators and accelerators around the world, but the strongest, most consistent source has been 1871 member companies."
Joosse says their students have worked with hundreds of 1871 startups, from founders looking to identify the audience for a new app to teams of a dozen looking to refine their product or build a new platform.
"The best way for our designers to understand the power of their accumulated knowledge and process is to apply it to others who need it. And our designers' ability to work closely with 1871 startups on a daily basis shows them exactly how impactful their design will be." —Mike Joosse, Community Director
Interested in joining Designation and getting the chance to prove your design chops with 1871 community members? Sign up by September 4 to join their upcoming Daliah cohort beginning this September.