Last week, local investors, corporations, and industry leaders came together at Cushman & Wakefield's Chicago office to celebrate 1871's inaugural Advanced Member Program (AMP) cohort. During the showcase, 11 seasoned entrepreneurs brought together six months of extensive training and mentorship to pitch their business ideas. In case you missed it, we've captured all of the highlights right here.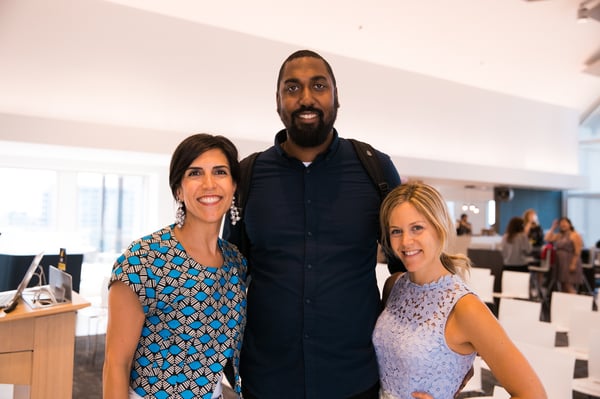 Congratulations to the entrepreneurs and companies in our inaugural AMP cohort!
It was inevitable -- startups were going to grow and businesses were going to expand. After listening to feedback from its board and member community, 1871 developed the Advanced Member Program or AMP for short. Geared towards scaling, mature companies, our first AMP cohort launched in early 2018 and consisted of some extraordinary enterprises. From a celebrity shoutout platform to a mobile car wash, the companies that participated in the inaugural cohort recently celebrated six months of stage-specific training, mentorship, and growth during an unforgettable showcase.
Below are some of the most memorable moments from the AMP showcase.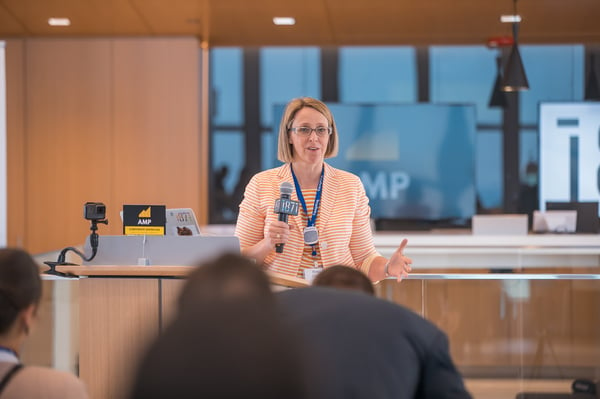 1871 CEO Betsy Ziegler kicked off the showcase with opening remarks.
"We created AMP to support some of our most promising companies and I'm proud to say that each of these businesses are creating the transformative software, services, and products that are changing the way that we live." – Betsy Ziegler, CEO, 1871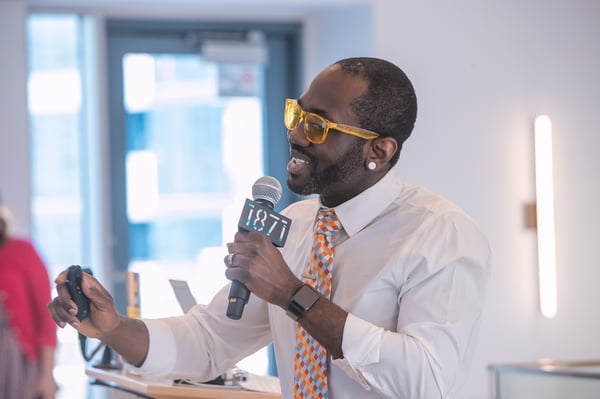 Mo Akintunde is the Director of Marketing and Brand Development at PeopleVine, a marketing technology platform that helps users connect with their customers.
"We provide the tools that allow users to facilitate every phase of the relationships lifecycle and grow personalized relationships at scale so that they can truly engage with their customers and members." – Mo Akintunde, Director of Marketing & Brand Development, PeopleVine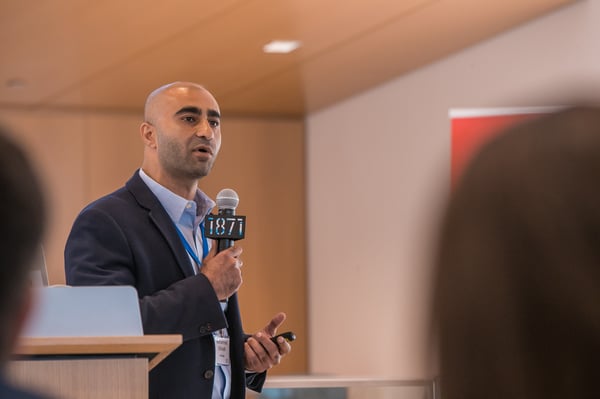 Mo Eklhatib is the Founder and Managing Director of Anomalix, a cybersecurity solution and services company.
"One in four organizations will be breached within 12 months -- and the average cost of a breach is $3.6 million. It's an extremely complex problem to solve when you have an organization with thousands of employees, but our solution can simplify the complexity and reduce the likelihood of compliance loss." – Mo Elkhatib, Founder and Managing Director, Anomalix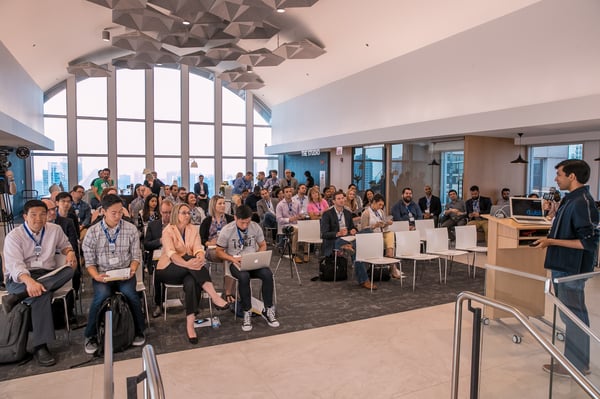 Arnav Dalmia of Cubii, which builds under-the-desk ellipticals, talks about the importance of health wellness during his pitch.
"It can be difficult to stay in good health today, but we provide a compact, elliptical trainer that can help users mobilize their joints, prevent blood pressure issues, and stay in good health. One of its strongest applications is actually in the office, where users can work and improve their health and wellness at the same time." – Arnav Dalmia, Co-founder and CEO, Cubii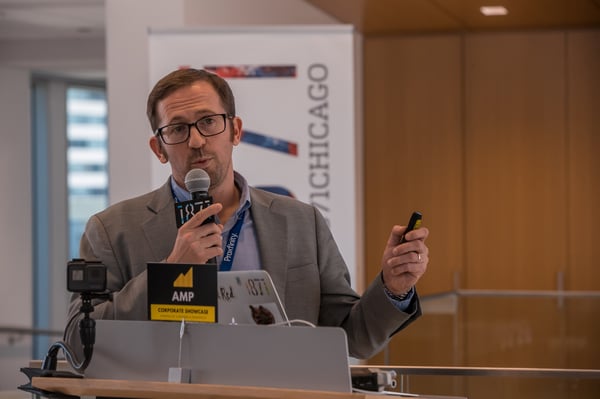 Graham Thomas shares the many benefits of Genivity, a software platform that helps professionals engage clients and retain next generation heirs through life-stage, health-risk, and care cost planning.
"Genvitiy stands for generations and longevity and we're committed to helping people protect family assets, strengthen relationships, and engage with the next generation before wealth transfer. We help plan for health and elder care, and we focus on providing our users with an important commodity -- peace of mind." – Graham Thomas, Sales Consultant, Genivity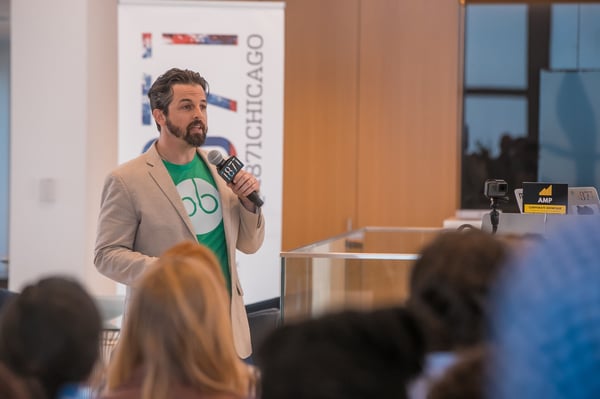 David Aronson is the Founder and CEO of Peanut Butter, which provides companies with the ability to offer student loan assistance as a benefit.
"Student debt has increased five-fold between generations and what we find is that two-thirds of all job-seekers say that they would accept a job offer if it came with the benefit of student loan assistance. We provide leading companies with the software to hire - and retain - their best employees." – David Aronson, Founder and CEO, Peanut Butter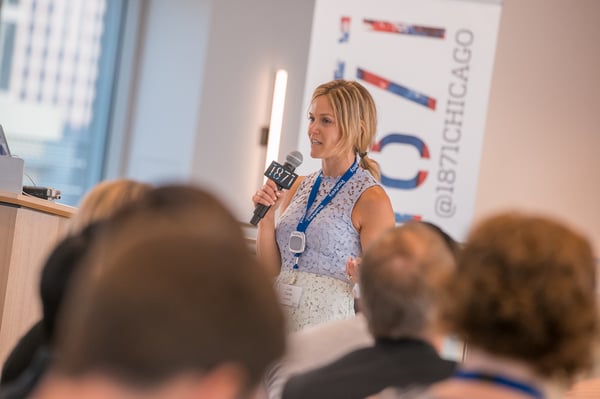 Lisa Carrel is the Co-founder and Chief Sales Officer at Proxfinity, which drives human connection through event technology.
"Our patented wearable technology notifies users when they are in proximity of someone else who has similar or common interests and it helps professionals from all industries save time and truly connect with one another. – Lisa Carrel, Co-founder and Chief Sales Officer, Proxfinity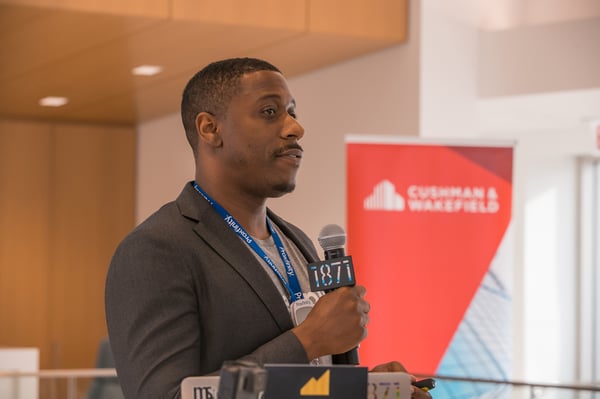 Gary Cooper is the Co-founder and CEO of Rheaply, a platform where researches to find, transact, and share pricey scientific equipment and supplies.
"I was working at major university where I saw that an estimated $7 million were wasted on scientific resources that could have been reused. That's a problem that I want to solve with Rheaply, which acts as a shared economy where researchers can share and trade expensive surplus resources and assets." – Gary Cooper, Co-founder and CEO, Rheaply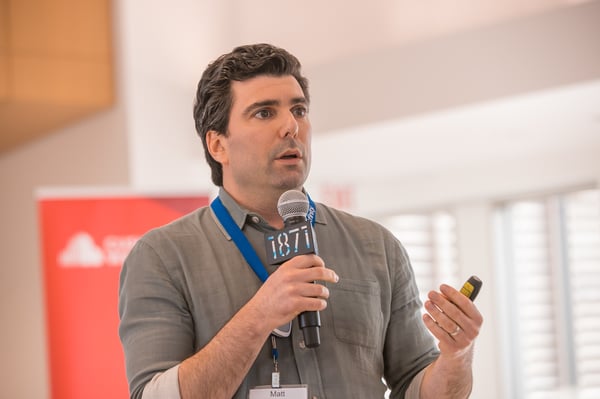 Matt Meltzer shares the history of Sage Corps, a global entrepreneurship program that connects top college students with successful startups from abroad.
"In a globalized economy, you need a globalized workforce, and we don't have that today. With Sage Corps, we can solve that problem by connecting students with foreign work opportunities. In fact, we found that job-seekers who had gone through Sage Corps and highlighted their work abroad experience were some of the most competitive when it came to employment." – Matt Meltzer, Founder and CEO, Sage Corps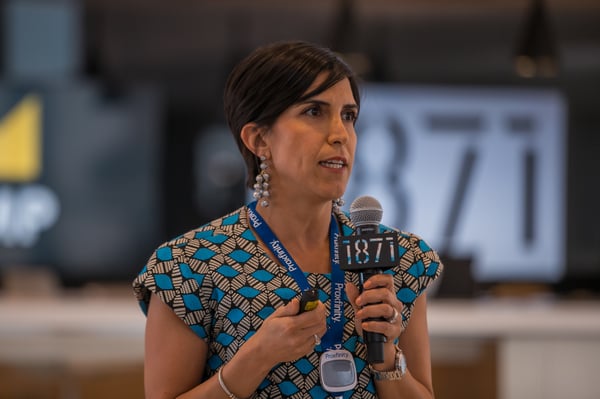 Lisa Souter is the Founder and CEO of Sparkl, a mobile, eco-friendly car washing service.
"I'm the proud mom of two boys and I remember when an eight-year old girl stepped into my car and said it was the dirtiest car that she had ever been in. When I went to clean my car, I found how inconvenient it was to wait at a car wash -- not to mention how much water car washes waste. I founded Sparkl to address those concerns by bringing an eco-friendly car wash to our customers so that they can save valuable time and resources." – Lisa Souter, Founder and CEO, Sparkl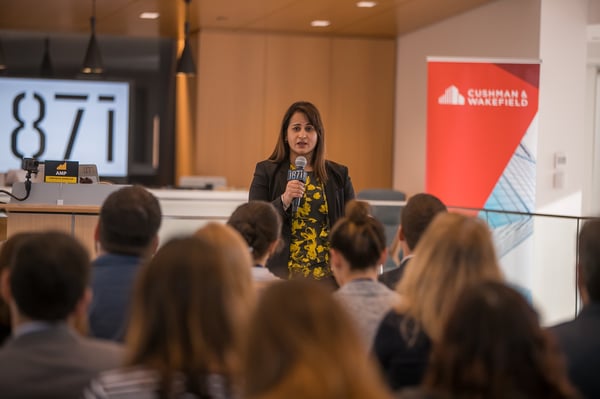 Parminder Batra, Co-founder and CEO of TraknProtect, a technology platform that allows hotels to track their physical and human assets, talks about the need for security in the hospitality industry.
"There's an increasing amount of sexual harassment in the hospitality industry. Today, many housekeepers are walking into hotel rooms and they don't know what to expect on the other side. TraknProtect's panic buttons help provide them with peace of mind by delivering real-time location specific alerts and analytics." – Parminder Batra, CEO and Co-founder, TraknProtect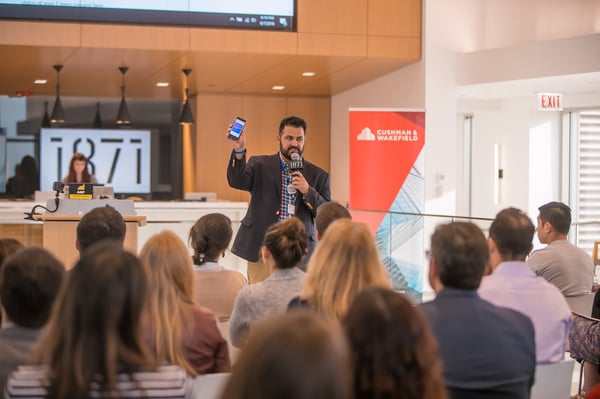 Steven Galanis, Co-founder and CEO of Cameo, an online marketplace where fans can book personalized video 'shoutouts' from their favorite celebrities, demonstrates how the platform works.
"We offer a personalized video marketplace where you can gift a celebrity shout-out to your favorite people. It is truly the most unique and authentic gift that you can give someone because it shows much you really know them." – Steven Galanis, Co-founder and CEO, Cameo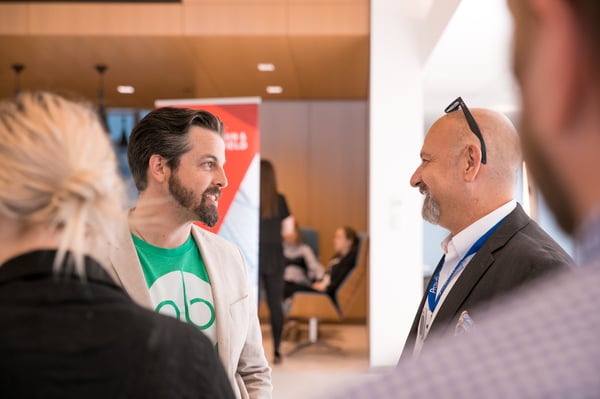 After the showcase, entrepreneurs from the inaugural AMP cohort met with industry leaders, investors, and other members of Chicago's business and tech community.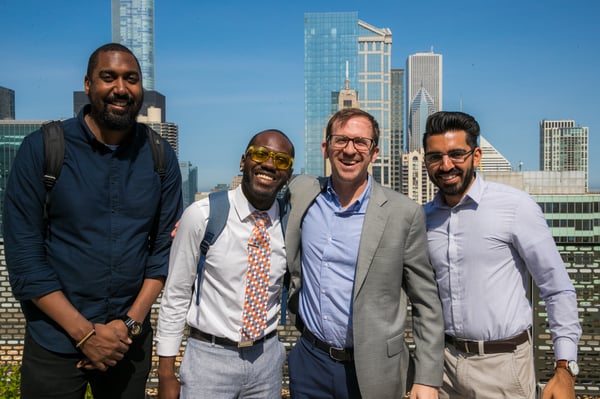 Congratulations to all the entrepreneurs and companies in our first AMP cohort! Thanks again for an amazing six months -- we truly enjoy building something special with you and can't wait to see where you're headed next.
1871 provides work space, education, resources, and curated connections to help Chicago's entrepreneurs build and scale their business.
Looking to scale a later-stage company? You might be a good candidate for our AMP program. Learn more about AMP and check out our program requirements right here.