1871 Board Member Maura O'Hara arrived home in 2003 from her last day at a high-level marketing job at Sears corporate to something unexpected on her kitchen counter.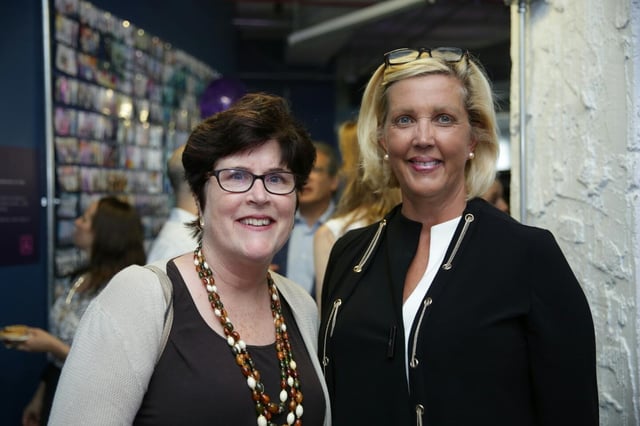 1871 Board Member Maura O'Hara, left, with Illinois State Senator Sue Rezin at the WiSTEM Cohort 4 Showcase event in June.
It was an unsolicited stack of business cards -- with her name on it -- for Dunrath Capital, a venture capital firm a former colleague of hers was starting. Sure, Steve Beitler couldn't pay her, and the world of VC's was brand new, but after spending years in corporate America and chasing the feeling that she needed to work downtown, she was in a place to make a pivot.
"At that point, I just decided I was going to say 'yes' to a lot of things," she said.
As she began to help Bietler get Dunrath off the ground, she was introduced to the Illinois Venture Capital Association (IVCA). Needing some help with their marketing strategy, she began working with them a few days a week. After six months, she was the Executive Director , and she has been there ever since. The surprise business card from Beitler marked the turning point in her career, and is symbolic of the wisdom she often imparts on others.
"Relationships matter," she said. "The people you work with in your career are your very best boosters."
As the Executive Director of the IVCA, O'Hara oversees the mission of the organization, which advocates for a strong venture capital and private equity industry in Illinois by promoting pro-growth policies, providing educational programming, facilitating networking and partnering with like-minded organizations. One of those, naturally, is 1871 and the Chicagoland Entrepreneurial Center, where O'Hara has served on the Board for more than a decade.
"Maura has boundless energy, boundless enthusiasm," said Beitler. "She has the ability to bring diverse groups together with diverse interests and diverse goals."
Beitler said that not only was O'Hara an important part of Dunrath's early days, but that her work with the IVCA over the past 13 years was critical to the organization.
"Relationships matter. The people you work with in your career are your very best boosters."
"If the IVCA had never existed, then things like 1871 might not exist," he said. "Maura was instrumental in making the IVCA a force in the State of Illinois and the Midwest."
O'Hara said she finds herself at 1871 at least twice a month, meeting with IVCA members like Parker Gale, Hyde Park Angels and MATH Venture Partners who have offices in the space. She also attends at least one 1871 event per month, most recently cheering on the 14 WiSTEM companies at the fourth cohort showcase.
"Maura has boundless energy, boundless enthusiasm. She has the ability to bring diverse groups together with diverse interests and diverse goals."
O'Hara said she doesn't consider herself a VC -- "I want everyone to do well," she said -- but often finds herself mentoring entrepreneurs and small businesses as they prepare to pitch. Through the years, she's had quite a few observations and pearls of wisdom through those experiences.
"I want to put them in the very best frame of mind to do well when they talk to a VC," she said.
Often times, startups make the mistake of thinking VCs invest in every industry and every stage of companies -- a mistake that can waste time for both parties. Part of her role with the IVCA is steering entrepreneurs to the VC or angel investor that will be the right fit, and making sure they can quickly and cohesively tell their story and make their pitch.
O'Hara said she's seen significant change in the VC landscape in Illinois since she took the reigns of the IVCA in Illinois and began serving on the CEC board in 2004.
"The population of talent we have in Chicago is so much better than it used to be," she said. Additionally, she said while the number of VCmembers dropped significantly in the first few years of her tenure, the firms that emerged were stronger and more strategic. That's led to an extremely positive, and cyclical, outcome for the tech landscape today and in the future.
"The speed of getting to a big exit is going to get shorter, we're going to see a faster evolution of company growth," she said. In turn, that's good for the VCs throughout the state, who will see quicker and larger returns on their investments.
As for the CEC, O'Hara said she has been astonished to see the growth of the organization since 1871 was founded five years ago. Particularly, she said connecting smaller companies to larger corporations was always a goal in her early tenure on the Board, but was difficult to facilitate. Having 1871 as an asset has brought this goal to life.
"We always wanted to figure out ways the early stage companies could sell into (large corporations) or provide solutions for them," she said. "With the creation of some of these specialized incubators, most recently the Bosch IoT (Connectory) we are starting to see more of that, and that's very exciting."
While O'Hara said she sees a rosy future for tech in Chicago and the VC firms that continue to fund it, she does have concerns. She said she worries economic uncertainty and budget woes in the state could scare off firms and threaten continued growth. She also said certain legislation, including the proposed SB1719, which would impose a 20-percent tax on certain investment funds, could stymie growth. (Note: The CEC board has issued a statement about the proposed bill.)
In addition to serving on 1871's Board and her leadership at the IVCA, O'Hara is a past board chair at Thrive Counseling Center in Oak Park and formerly served on the Mayor's Tech Council. She holds an MBA from the Northwestern Kellogg School of Business and lives in Oak Park with her husband, Bob Wielgos, and their two sons.