Applications are now open for Campus 1871 2018, a weekend-long event held once a year between 1871 and its major university partners: Northwestern University, Illinois Institute of Technology, University of Illinois Urbana-Champaign, University of Illinois at Chicago, University of Illinois Springfield, DePaul University, Loyola University Chicago, University of Chicago and, for the first time, Trinity Christian College.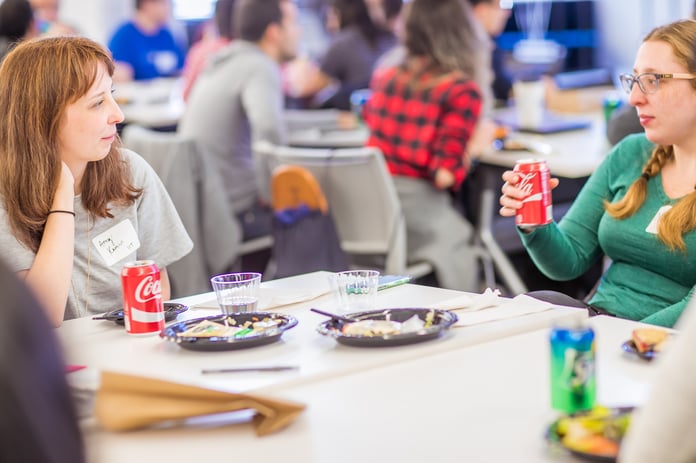 Students Amy Kamin and Mary Novokhovsky, whose team Respirare won 1st place at Campus 1871 2017.
Students from all the universities will come together to share ideas and build an original startup business plan with mentoring and coaching from 1871 entrepreneurs.
"We're thrilled to welcome Chicago's most entrepreneurial students to this year's annual Campus 1871 event to celebrate five years of collaboration between 1871 and our university partners. With this event, we are continuing to mold future entrepreneurs and cement Chicago's reputation as a forward-moving technology community that is providing real value for the next generation of founders and business leaders." —Howard A. Tullman, CEO, 1871
The weekend event includes startup 101 crash courses, keynote speakers, and mentorship, culminating in a pitch competition in front of a panel of Chicago's top tech leaders for assorted prizes, including a temporary membership at 1871. Food, lodging, and other participatory costs are paid by 1871 as part of its community-focused mission.
"This will be our second year at Campus 1871, and it is one of the highlights of the year for our students. It offers practical, real world value, and I'm excited to see how it will shape future entrepreneurs for years to come." —Bruce Leech, Executive Director of the Coleman Entrepreneurship Center at DePaul University
During Campus 1871, students will divide themselves into teams and build out their business strategies. The teams consist of Hustlers (business, marketing, and sales strategists), Hipsters (designers), Hackers (developers), and Dreamers (ideators and inventors), whose dynamic talents combine to develop their ideas. After joining a team and deciding on an idea for their new business, students begin drafting business plans, building prototypes, and developing their pitches. The program concludes with pitches from each of the teams, with winners chosen by a panel of judges drawn from the 1871 community.
"This event gave me the opportunity to network with amazing individuals and learn from an extraordinary group of industry leaders," said Amy Kamin, an Illinois Institute of Technology student whose team took 1st place at Campus 1871 2017, and who recently joined the 1871 team as an intern. "As part of the staff here at 1871, I work closely with startups from around the region, and I can say without a doubt that Campus 1871 closely mirrors the current startup environment. It's an event that replicates the accelerated atmosphere and high level of collaboration you'd find at a real startup." —Amy Kamin, 1871 Intern and IIT student whose team took 1st place at Campus 1871 2017
Are you a student from one of our university partners interested in participating in Campus 1871?
The application deadline is February 2nd, 2018.