1871 and the CEC's 11th Annual Momentum Awards Dinner will Recognize Discover as Corporate Champion; Linda Darragh and Ellen Rudnick as Entrepreneurial Champions; and Future Founders as the Chicagoness Award Winner.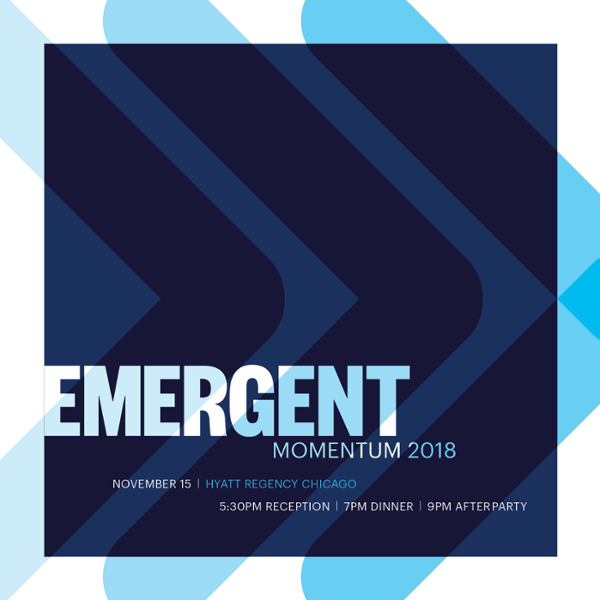 1871 and The Chicagoland Entrepreneurial Center (CEC) are excited to announce that Discover, Linda Darragh and Ellen Rudnick, and Future Founders will all be recognized for their contributions to Chicago's tech and entrepreneurial community at the 11th Annual Momentum Awards Dinner.
"We're fortunate to have so many phenomenal innovators and pioneers that have contributed their time and resources to Chicago's tech and entrepreneur ecosystem," said 1871 CEO Betsy Ziegler. "The collective impact that Discover, Linda Darragh and Ellen Rudnick, and Future Founders have made in the city has been tremendous. We're proud to recognize them as champions and leaders for their community-focused initiatives, civic contributions, and impact on our entrepreneur and innovation ecosystem."
Each one of this year's award categories, including the Corporate Champion, Entrepreneurial Champion, and Chicagoness Award will observe the theme of an Emergent tech ecosystem, which includes emerging technologies, leaders, and opportunities that embody the creative potential of change and innovation.
"The Corporate Champion, Entrepreneurial Champion, and Chicagoness Award honor the organizations and individuals that exemplify Chicago's entrepreneurial spirit; namely hard work, collaboration, innovation, and a commitment to community," said CEC Board Chairman Jim O'Connor, Jr. "I'm honored to add Future Founders, Linda Darragh, and Ellen Rudnick to the list of extraordinary individuals that have made our community one of the strongest in the world, and I'm thrilled to commend Discover for their role in cementing Chicago's reputation as a tech and business powerhouse."
Discover will be recognized as Corporate Champion at this year's 11th Annual Momentum Awards Dinner. Discover is a leading financial institution located in Chicago whose commitment to innovation and education has led to job growth, economic opportunity, and the development of the Discover Campus Innovator Program, which provides tech-savvy students with opportunities to research and develop new technologies. The Corporate Champion award recognizes a corporation or business that has made an impact through community focused efforts throughout the Chicagoland area. McDonald's was the recipient of last year's Corporate Champion Award.
"As a direct bank and payments company, technology underpins everything we do. We have a long-standing commitment to support education in the Chicagoland area, and it is a privilege to be recognized by 1871 for our work in tapping the potential of college students pursuing a career in technology," said Roger Hochschild, CEO of Discover. "Initiatives like the Campus Innovator Program let us give students a head start on their careers while helping us attract leading edge talent and innovate for our customers."
Linda Darragh of the Kellogg School of Management at Northwestern University and Ellen Rudnick of the Booth School of Business at the University of Chicago will both receive the Entrepreneurial Champion Award. Both leaders have spent the last 20 years building and supporting the relationship between the local tech and entrepreneur ecosystem and the city of Chicago. The Entrepreneurial Champion Award is given to an entrepreneur to recognize his or her personal dedication to the Chicago tech community through mentorship, civic leadership, and economic contributions. CEC Board Chairman Jim O'Connor, Jr. was the recipient of last year's Entrepreneurial Champion Award.
"Building a pipeline for the next generation of Chicago entrepreneurs is the core of our work at Kellogg's Innovation and Entrepreneurship Initiative. Over the last six years, we rebuilt our program to include expanded access to mentorship, funding and courses providing real-world innovation experience. I am proud of Kellogg's impact in launching new founders and businesses into the local startup community," said Linda Darragh, Executive Director of the Innovation and Entrepreneurship Initiative at the Kellogg School of Management. "As a member of the Chicagoland Entrepreneurial Center since its inception, I am also energized by the tremendous growth of the local entrepreneurship ecosystem more broadly, including through the impressive work of my fellow award recipient Ellen Rudnick. I look forward to continually evolving the partnership between Kellogg, 1871 and the Chicago startup community."
"It is an incredible honor to receive the CEC's Entrepreneurial Champion Award in recognition of the Polsky Center's contributions over the past two decades," said Ellen Rudnick, Sr. Advisor on Entrepreneurship and Adjunct Professor at the University of Chicago Booth School of Business. "I'm thrilled to be recognized alongside my colleague and close friend, Linda Darragh, for the important role that our universities have played in growing the vibrant startup community here in Chicago."
Future Founders will receive the Chicagoness Award. Future Founders is a youth startup accelerator that has helped more than 34,000 youth in Chicago learn the skills that they need to succeed as the next generation of business leaders and entrepreneurs. The Chicagoness Award is bestowed upon individuals or companies that exemplify the values of the Chicago entrepreneurial community, which includes educational initiative, inclusion, and commitment to collective opportunity. Music artist Lupe Fiasco was the recipient of last year's Chicagoness Award.
"It's an honor to win an award that recognizes the characteristics which are fundamental to our work at Future Founders -- inclusion, grit, and passion," said Scott Issen, Co-Founder and CEO of Future Founders. "We are proud of what we've accomplished and look forward to empowering even more entrepreneurs in Chicago and across the country."
In addition to the Corporate Champion, Entrepreneurial Champion, and Chicagoness awards, several other honors will be presented at the 11th Annual Momentum Awards Dinner on November 15, including the Momentum Rising Star Award and the Momentum Award. The event will be attended by more than 1,000 of Chicago's best and brightest tech innovators, corporate leaders and civic supporters. It is the largest gathering of the tech community annually and the primary fundraiser for CEC, which supports the activities and operations of 1871.
To learn more about the 11th Annual Momentum Awards Dinner or RSVP for the event, follow this link.