We're excited to partner with Fenox Venture Capital, a leading Venture Capital firm to bring their global startup competition to Chicago. During this competition, contestants will compete for a $1,000,000 investment prize and most importantly, an opportunity to be heard on a global stage.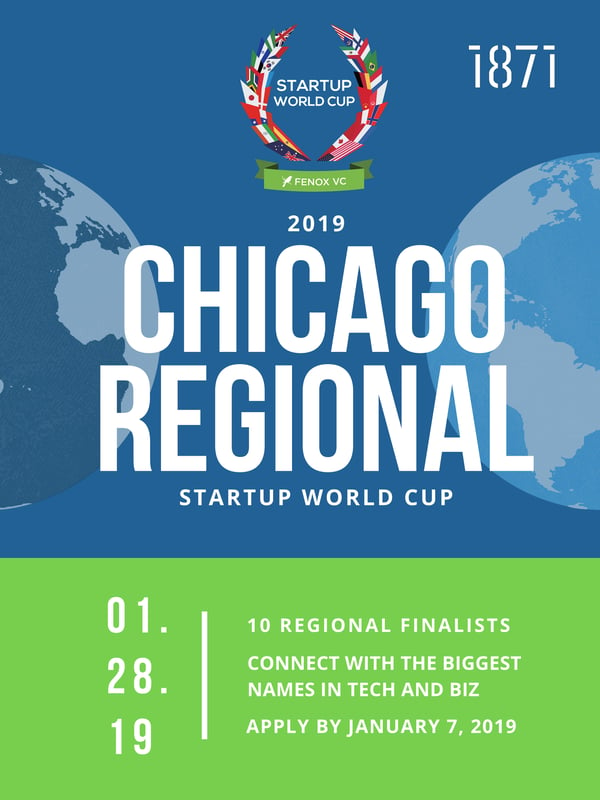 1871 joined Fenox Venture Capital Monday to announce a partnership that will bring the Startup World Cup, a global series of startup conferences and competitions that bring together phenomenal startups, VCs, and world-class tech CEOs, to the city of Chicago. 1871 will host the Chicago Regional Startup World Cup on January 28, 2019, where 10 startups will pitch their business ideas for an opportunity to showcase their companies at the Grand Finale event in San Francisco and compete for an investment prize of $1,000,000.
"It's an honor to partner with Fenox Venture Capital and bring the Startup World Cup to Chicago. Chicago has a thriving startup community and we're elated to give them a platform to compete on a global stage." – Betsy Ziegler, CEO, 1871
1871 is one of 40 regional partners supporting the Startup World Cup. Organized by Fenox Venture Capital, the Startup World Cup is dedicated to launching and advising the world's next wave of leading entrepreneurs. Startups selected to participate will first compete at regional events, and the regional finalists will showcase their companies at a Grand Finale event in San Francisco on May 17, 2019.
"Startup World Cup is a truly global event that brings together the startup ecosystem stakeholders, including startups, investors, large corporations, and policymakers on one platform, and creates new opportunities for entrepreneurs to expand and cooperate on a global scale. We are excited to partner with 1871 to bring Startup World Cup to Chicago and are looking forward to selecting the top startup to represent the region." – Anis Uzzaman, CEO of Fenox Venture Capital and Chairman of Startup World Cup
Past Startup World Cup Grand Finale events featured prominent figures from the hightech community, including John Chambers (Former CEO of Cisco), Steve Wozniak (Co-Founder of Apple), Reid Hoffman (Founding CEO of LinkedIn), Vinod Khosla (Co-Founder of Sun Microsystems), Adam Cheyer (Co-Founder of Siri), Marc Randolph (Co-Founder of Netflix), and Jay Vijayan (Former CIO of Tesla). Startup World Cup had veteran investors from Kleiner Perkins, Y Combinator, Techstars, Intel Capital, 500 Startups, GE Ventures, DFJ, Social Capital, Index Ventures, and Plug and Play Ventures, as well as investors from all over the world, judging the global and regional finals. Startup World Cup 2019 Grand Finale will be held in San Francisco on May 17th, 2019 and regional winning startups from 40+ countries all over the world will compete for a chance to win a US $1,000,000 prize in investment.


Ready to join the Startup World Cup? Submit your application packet right here.