We're excited to join Charles Schwab, one of the nation's most prestigious brokerage firms, to celebrate women in the workforce with this year's International Women's Day event. Featuring this year's theme of 'Balance for Better,' we'll celebrate the day with a maker's fair, free workshops, a panel discussion, a feature presentation, and a fireside chat.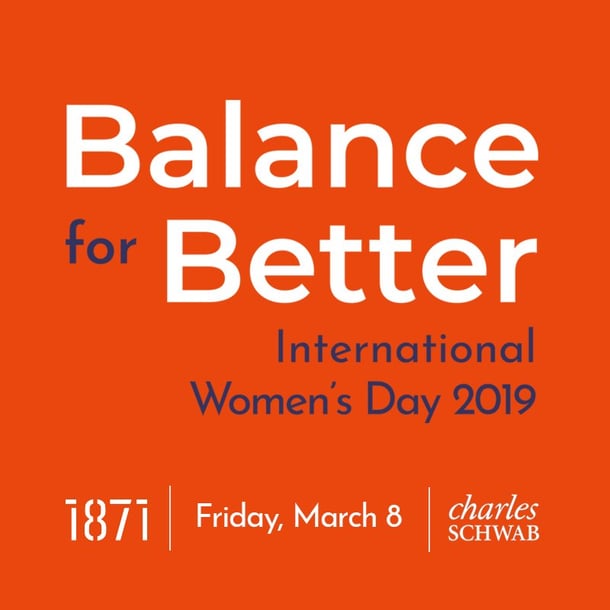 1871 and Charles Schwab will be holding an all-day event that will celebrate International Women's Day on March 8, 2019 with a maker's fair, free workshops, panel discussion, keynote presentation, and a fireside chat to inspire, educate, and empower women in the workplace. The event will be held at 1871 and features a variety of content and activities highlighting the international 2019 theme of 'Balance for Better.' The event is free and open to the public. Programming will begin at 8:30 a.m. with breakfast and a keynote presentation with 1871 CEO Betsy Ziegler and Neesha Hathi, Executive Vice President and Chief Digital Officer at Charles Schwab.
"This year's theme for International Women's Day is 'Balance for Better' and that's especially relevant to our community of women entrepreneurs and professionals. There's a wealth of research that shows how diverse teams and leadership drive innovation and growth. We're excited to partner with Charles Schwab to champion the idea that parity drives progress and equip women in the tech industry with the tools, resources, and support that they need to thrive." – Betsy Ziegler, CEO, 1871
"We're honored to be part of this vital conversation. To fully harness the power of technology, we have to be able to understand how a client will experience it, and that can be best achieved through an inclusive workforce that reflects the diversity in our client base." – Neesha Hathi, Executive Vice President and Chief Digital Officer, Charles Schwab
After the opening presentation, the event will continue with a maker's fair highlighting local women-vendors along with a panel discussion and a series of workshops. Workshops will follow two separate tracks -- one focused on entrepreneurship and one focused on professional development. The event will also feature a fireside chat in the afternoon headlined by Jen Poyant, Co-founder of Stable Genius Productions, and Jen Sabella, the Co-founder and Director of Strategy at Block Club Chicago. Programming will culminate with a reception where attendees can network and interact with demo tables from organizations focused on women's issues.
Programming for this year's International Women's Day event has been meticulously curated by 1871 and Charles Schwab. The event reflects both organizations' commitment to gender equality and the advancement of women in the workforce.
Along with International Women's Day, 1871 has launched a number of major initiatives to empower Chicago's women founders and business leaders including ChiBuys, a first-of-its-kind program supporting women- and minority-owned food vendors, and WiSTEM, an accelerator program for women entrepreneurs. Furthermore, the 1871 team strives to make diversity and inclusion a core focus in their recruiting efforts, events, programming, membership, and every other facet of the organization.
Ready to join the Startup World Cup? Submit your application packet right here.