1871 joined Charles Schwab Tuesday to announce an all-day conference celebrating International Women's Day on March 8, 2018 with free events, workshops, and panels to empower women in Chicago's tech and entrepreneurial communities.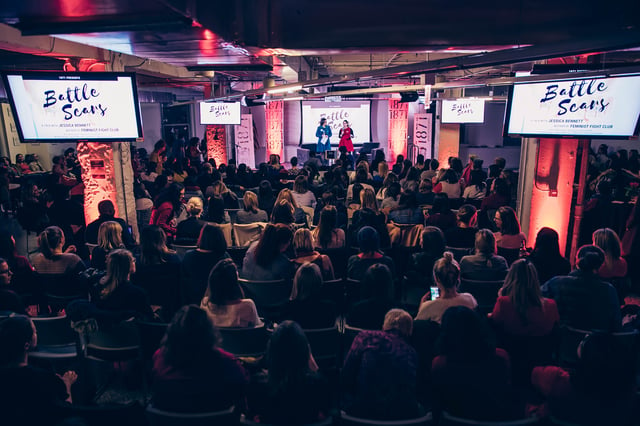 Jessica Bennett, author of Battle Scars: Feminist Fight Club, headlines the evening event at International Women's Day 2017
1871's 'Press for Progress' event, which marks the organization's annual commemoration of International Women's Day, will feature a wide range of content highlighting women entrepreneurs and women in the workplace. The first program starts at 9:00 a.m. and subsequent sessions will run through the day. The event will end with a fireside chat in the evening headlined by Tina Tchen, former Chief of Staff to Michelle Obama and Executive Director of the Obama Administration's Council on Women and Girls. All of 1871's 'Press for Progress' events are free and open to the public.
"We're excited to partner with Charles Schwab on this International Women's Day to equip women with the knowledge, insights, and strategies they need to forge successful startups and careers. It's our responsibility as the number one incubator in the world to champion women across all industries and ensure that the workforce of the future is more diverse, collaborative, inclusive, and innovative." - Kat Rokhlin, Senior Manager of Programming and Engagement at 1871
The conference kicks off in the morning with a panel of women trailblazers who will share best practices on how women can establish authority and authentic leadership in male-dominated industries and support other women in the workforce. After that, 1871 will hold a pop-up Maker's Fair featuring local women-owned vendors and food sellers from the 1871 ChiBuys program. In the afternoon partcipants will be able to attend workshops following two different tracks -- one focused on entrepreneurship and one focused on professional development. The program will culminate in the evening with a fireside chat with Tina Tchen, followed by a Q&A session and cocktail reception where participants can interact with demo tables from interest groups focused on women's issues.
The evening headliner, Tina Tchen, served as Assistant to President Barack Obama where she held the roles of Chief of Staff to First Lady Michelle Obama, Executive Director of the White House Council on Women and Girls, and the Director of the White House Office of Public Engagement. She currently heads the Buckley Sandler's Chicago office and also leads Buckley Sandler's Workplace Cultural Compliance Practice, where she counsels companies on issues related to gender inequity, sexual harassment, and lack of diversity in the workplace. Tchen also serves on a number of strategic advisory boards such as the U.S. Afghan Women's Council, Civic Nation, the United State of Women, Women in the Service Change Initiative, and Gender Equity is Common Sense. In recognition of her service, Tchen has received a number of awards including the "Women of Achievement" Award from the Anti-Defamation League, the Leadership Award from the Women's Bar Association of Illinois, and the title of "Person of the Year" from Chicago Lawyer.
This event series has been carefully curated by 1871 and Charles Schwab in a joint effort to highlight gender equality and the advancement of women as entrepreneurs and business leaders.
"Equality in the workforce is not only a social imperative, but it is an economic one as well. It is with this goal as a foundation that Charles Schwab is delighted to partner with 1871 for this special event." - Mary Rosai, Senior Vice President and head of Investor Services Relationship Solutions at Charles Schwab.
In addition to the International Women's Day event, 1871 has launched a number of major initiatives to empower Chicago's women entrepreneurs and business leaders including ChiBuys, a first-of-its-kind program supporting women- and minority-owned food vendors, and WiSTEM, an accelerator program for women entrepreneurs, whose companies have created more than 250 jobs and raised nearly $10 million in capital. Furthermore, the 1871 team strives to make diversity and inclusion a core focus in their recruiting efforts, events, programming, membership, and every other facet of the organization.
If you're interested in this year's 'Press for Progress' conference, make sure to view the full schedule of events or register to attend here.
Is your corporation interested in plugging in to our community? Learn about our Corporate Membership.