1871 and All Nippon Airways (ANA) -- Japan's largest and 5-star airline for six consecutive years, are holding a joint speaking event titled 'Disruptive Technologies and the Future of Transportation' to discuss rapid disruption and innovation in the transportation industry. The event will take place at 1871 on October 30th.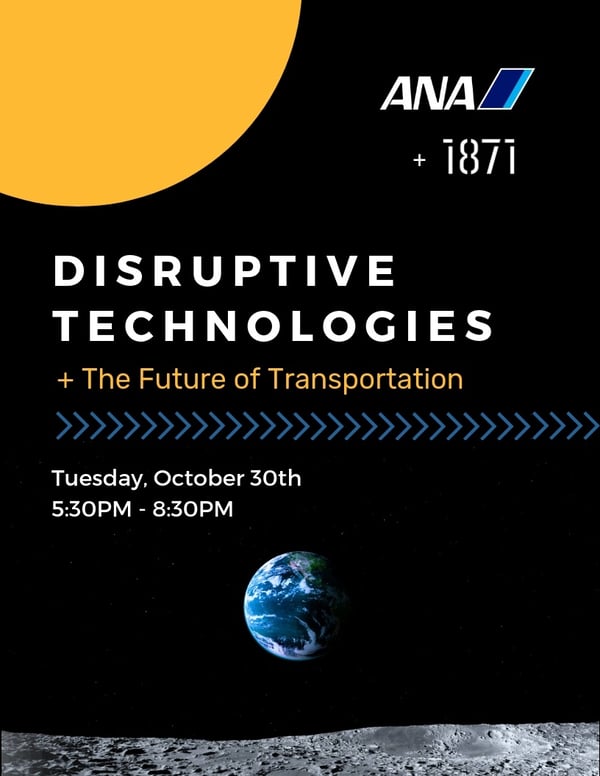 1871 and All Nippon Airways (ANA) are excited to present 'Disruptive Technologies And The Future of Transportation' -- a special event that will highlight innovative and disruptive technologies in the transit industry. The presentation will begin at 5:30 p.m. on October 30 and will feature talks from 1871 CEO Betsy Ziegler and ANA executives. The event will be held at 1871 and is free to the public.
"Research shows that two-thirds of the world's population will live in cities over the next 25 years so it's important that we hold cross-industry conversations about how technology will shape transportation in the near future," said 1871 CEO Betsy Ziegler. "All Nippon Airways has pioneered many innovative transportation initiatives in East Asia and I look forward to our discussion on how disruptive technologies will shape the global transit space and the many industries that are connected to it."
ANA has an ever-expanding catalogue of avatar related endeavors – each one approaching the use of avatars slightly differently – but all with the same goal of allowing humanity to break through the barriers of distance, time and culture that exist in our world to bring about an era of unprecedented physical connection, resource-sharing, mutual understanding and global abundance. At the event, ANA will discuss its various avatar initiatives and how it is making the future now through these projects.
"ANA has always been committed to connecting people for the betterment of society and around the world, said Hideki Kunugi, Senior Vice President of All Nippon Airways, The Americas. "When we say ANA is driven to be bold with an inspired vision of the future of flight, we are not limiting ourselves to physical planes, trains and automobiles. We see beyond that and are thrilled to partner with 1871 to share our vision."
ANA's avatar endeavors are led through its Digital Design Lab (DDL). The DDL works as a team looking at questions and societal issues to help transform ANA in the future. The DDL usually approaches its initiatives by asking two questions, "what if this would exist?" and "how could we improve this?"
Interested in attending 'Disruptive Technologies and the Future of Transportation?' You can register to attend the event here.