1871 recently hosted Anna Auerbach, Founder and Co-CEO of Werk, and Lee Mayer, Founder and CEO of Havenly, for an intimate fireside chat at 1871 about their entrepreneurial journeys. Through the conversation, Anna and Lee showed us that with perseverance and dedication towards one's passion, you can succeed. What passion do you have that drives you to make a difference?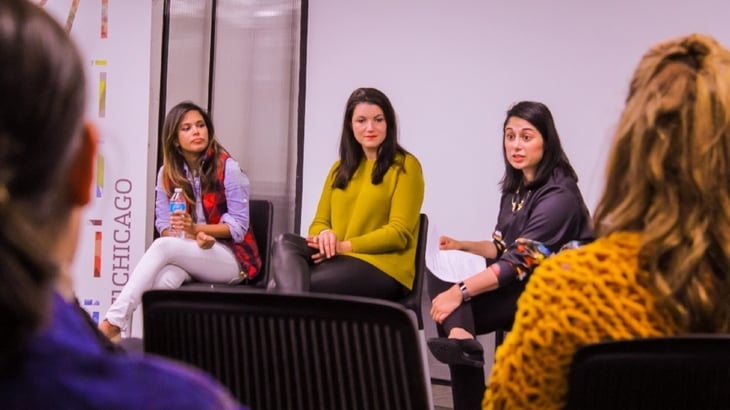 From right to left: Lee Mayer (Havenly), Anna Auerbach (Werk), Lakshmi Shenoy (1871-moderator)
Here are a few takeaways from the discussion:
Learn to trust yourself and your passion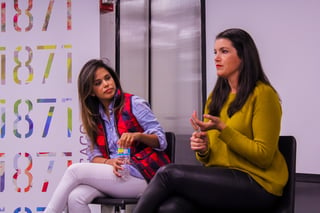 As Anna noted, many of us believe that we do not have the resources or tools to start a business or better yet, excel in one —but it all begins with putting one foot in front of the another.
Most entrepreneurs go through periods of doubting their own abilities, so it was refreshing to hear Anna's transparency on her journey. She mentioned her self doubt with entrepreneurship and the intimidation she felt when she thought about starting a business.
"I always thought that people had some sort of magical entrepreneur DNA and for whatever reason, I wasn't born with it." —Anna Auerbach
Anna realized the courage to pursue her passion is something you build yourself, not something you are born with. Her passion to solve an issue pushed her to continue to keep putting one foot in front of other other.
"[I was] getting involved in a problem so deeply and trying to shake people because they didn't see the solution, but I couldn't let it go." —Anna Auerbach
She put her self doubt and fear aside and allowed her passion to drive her towards taking the leap into entrepreneurship.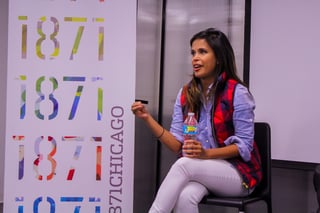 Hearing from Lee, a successful entrepreneur, speak about the difficulties that surround fundraising was very inspiring. She noted that fundraising is difficult for everyone and that in fact, it's supposed to be that way.
"You are coming to people in the beginning stages of your career with nothing but an idea, and you're asking them to invest in you. It should be hard." —Lee Mayer
The way to get through it is to find a model for fundraising that is authentic to you and your business. Lee opened up about finding and accepting her own personal fundraising style, which took some time. Lee, opened up about being called "thoughtful" when it came to her fundraising techniques. As someone who has been called "thoughtful" in their approach, Lee at first considered this to be a negative quality, but later realized that the only standard she needed to measure against was her own, and that it's imperative for entrepreneurs of all personality types to embrace who they are. It's this inner assurance that gives us confidence when speaking about our business.
Find your own style of leadership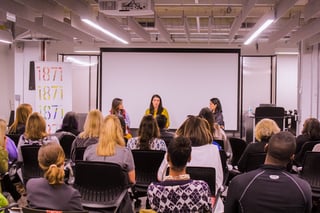 There is no one way to go about leading a team, but Anna mentioned how her leadership style reflects her personality. Anna has a young son, so being a mother has become a key part of her identity. She described leading a team as similar to raising a child. As a parent, you are to raise this person and teach him or her to be a self-reliant individual, and that is how she approaches managing her team as well.
Lee built on this and advised on daily improvement. Being better than what you were the day before is the best way to improve as a leader.
It was extremely empowering to see a group of women come together to support each other, ask tough questions, and connect because although we are powerful individually, we are even better together.