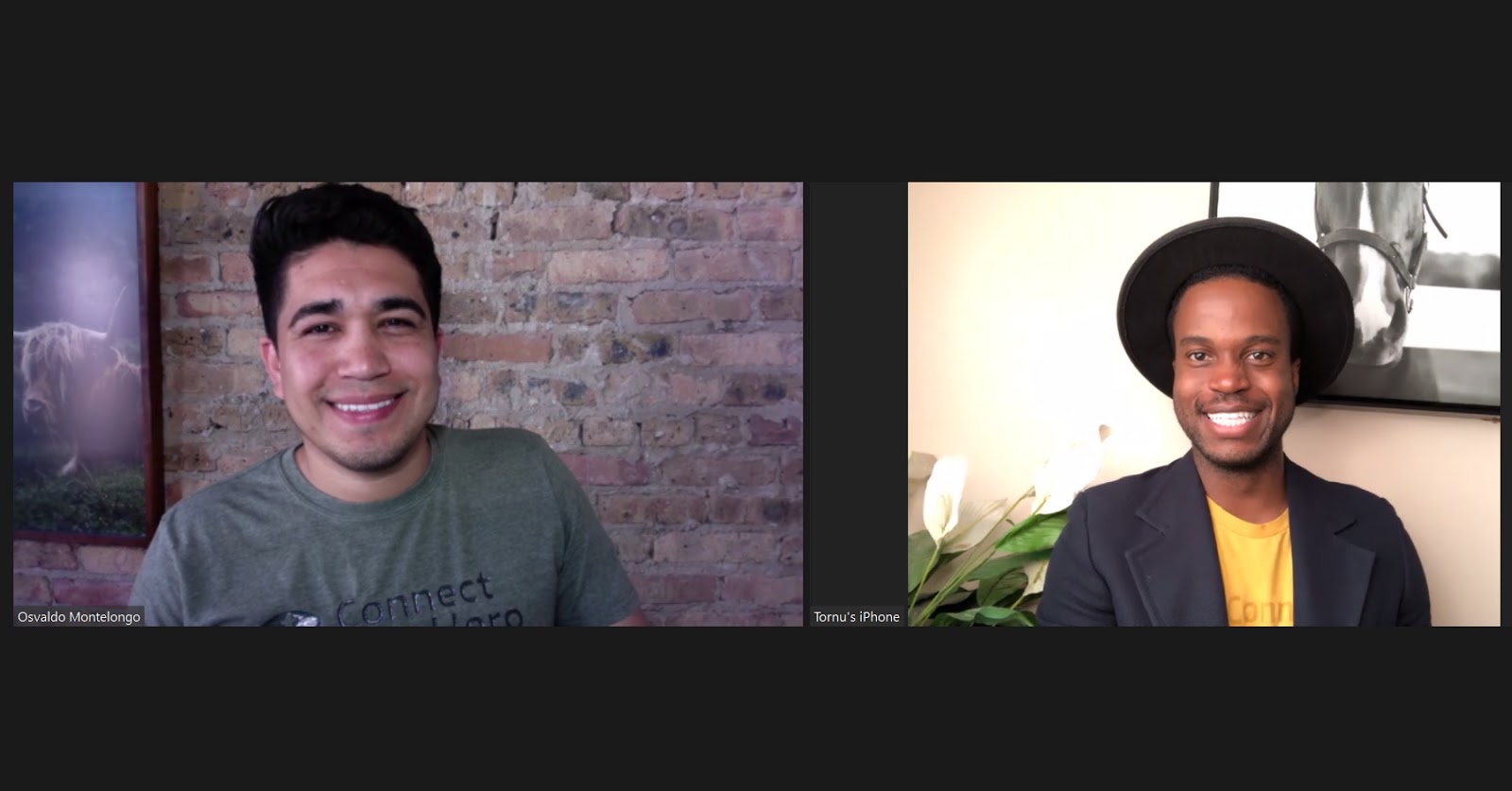 As a social activities management platform for senior living and homecare teams, ConnectCareHero has always centered around the safety and fulfillment of the elder population and thus they have been deeply connected to the fight against COVID-19 since the start.
When the pandemic hit, they jumped into action to modify their existing technology to better meet the changing needs of clients and the elder care community at large. We spoke with ConnectCareHero founders Osvaldo Montelongo and Tornu Ngwayah recently to discuss their team's hard work.
We're proud to support organizations that are pivoting their models to fight COVID-19 through our partnership with mHUB and MATTER as part of the Chicago Proactive Response: COVID-19. To learn more about CPR or to join the fight against COVID-19, visit CPRCOVID19.com.


Nisha, 1871: Tell us who you are!
Osvaldo, ConnectCareHero: I'm Osvaldo Montelongo, the Founder of ConnectCareHero.
I started ConnectCareHero because of the lack of communication within the nursing home space. My dad was 80 years old, so it was kind of firsthand experience learning what it's like to be connected with loved ones in the community. So, I wanted to get in there and start connecting families.
Tornu, ConnectCareHero: I'm Tornu Ngwayah, the CMO and Co-founder of ConnectCareHero.
I got plugged into ConnectCareHero out of the pure desire to make a global impact in senior living communities. The opportunity to connect families, staff, and elders was a dream of mine and has been a privilege and a beautiful ride thus far.
N, 1871: In regards to the coronavirus pandemic, what issue is ConnectCareHero tackling?
Tornu, CCH: Our mission is to provide connectivity for elders and their families and activity management departments in social living communities. Our primary focus during this time is to create a front desk tool that will allow for elders to be safe by processing guests or staff or visitors coming into the facility.
Helping to protect the most vulnerable population in our community, our seniors, is the key objective during this time.
N, 1871: How ConnectCareHero's business related to that issue? (i.e. were you working on this or did you pivot/refocus?)
Osvaldo, CCH: As Tornu mentioned, safety's our primary focus at ConnectCareHero. We'd already seen a need from our customers to improve their front-desk check-in process, so when the COVID-19 pandemic began, we took the initiative on our end to develop a new COVID-19 take on a visitor management solution. It helped us stay compliant within the elder care space, and also helped provide the care communities with better tracking tools to see if there are any potential high risk visitors, which ultimately helps to protect our seniors.
N, 1871: What motivates you andConnectCareHero to fight COVID-19?
Tornu, CCH: I think I speak for Osvaldo and the rest of our company, when I say that what ultimately motivates us are the shareable moments.
I've seen beautiful memories and moments shared between staff and elders' families. Seeing the impact they can have on the elders, and their families and staff, pushes me to do the work that we do.
Now, with COVID as a factor, those moments are being impacted. Elders can't really connect with staff. Families can't even connect with staff to receive any sort of communication because the staff is so inundated. Getting back to those shareable moments is the motivator behind all our work.
N, 1871: What solution is being provided by ConnectCareHero?
Osvaldo, CCH: ConnectCareHero works with senior living communities that have activities departments. To fight COVID-19, we added a front desk visitor management tool and modified it to be COVID-facing. We have COVID-19 screening questions that everyone from staff to visitors must go through and temperature-check logging, as well. If anything gets flagged within our system, it sends an automatic email alert about a high-risk visitor who may have interacted with the community while at the same time asking said visitor to stop, go see the front desk, and to follow protocols.
N, 1871: Are there any challenges in creating your solution?
Tornu, CCH: We were working in senior living communities already, so we had a working front desk check-in feature that we've been able to build upon. Moving forward, our solution will need to expand, and we will need to add more value features.
Whether it's coming up with innovative ways to better screen, such as a no-touch system, or contact tracing, these are things that we are thinking through and we imagine that might bring up some challenges down the road.
N, 1871: How did you overcome them?
Osvaldo, CCH: We have a talented tech team that does a lot of our work in-house, so we can stay on top of the latest tech trends. In order to keep expanding on our visitor management tool with new, innovative features, we are looking to open up our platform to be a third party integration system. So, we can plug others' expertise into our tool and keep providing a more enhanced, more sophisticated platform.
N, 1871: Why are you choosing now to fight COVID-19?
Tornu, CCH: The reason why we're making an adjustment to our solution is to provide specific safety solutions for seniors. That's the ultimate heartbeat behind what we do.
It's twofold: safety first, then creating the ability for communities to encourage connections with elders.
N, 1871: Any advice you would say to those interested in joining this fight?
Osvaldo: Do what you can in whatever field you're in, with the ability and time and resources you have for it. Collaborate with other companies -- I think that's one thing that really helps us, and other companies in this space. Two is always better than one, so you can get a lot more done that way.
Tornu, CCH: I think this is the time for all of us to do what we can do regardless of what industry we're in. If there was ever a time within our history to step forward as a unit, this would be the time to do that.
N, 1871: Is there anything else you'd like to mention?
Tornu, CCH: We've all seen firsthand the impact quarantine can have on our lives. Now, imagine the most vulnerable population, those who are the "target" of COVID-19. These elders have been in their rooms for five months.
I spoke on the phone to an elder recently who told me that she went into the hallway of a nursing home for the first time in months. I would love for people to wrap their minds around that perspective and understand that, even as we begin the process of reopening, there are still people for whom that is not a reality.
It is such an honor to be a part of a team that is striving to break that disconnect and allow elders to have an outlet with their families and the real world.
To learn more about ConnectCareHero's Front Desk Check-In Solution, sign up for a demo or visit their website.