1871 is excited to announce WiSTEM's new Programming Partnership with InvestHER. Lakshmi Shenoy, 1871's Vice President of Strategy and Business Development, spoke with Gerri Kahnweiler and Cayla Weisberg about the goals of the partnership and their vision for women entrepreneurs: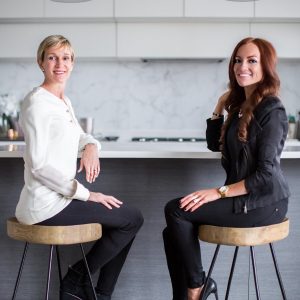 (Gerri Kahnweiler (left) and Cayla Weisberg (right) of InvestHER)
LS: Tell us about InvestHER and your investment thesis.
GK: When Cayla and I first met, we spoke about the lack of venture capital funding for women tech founders. From Cayla's experience, she saw a very male dominated approach from how [companies] pitched, to how people network, to even the types of products that were being invested in. Our own listening tour reinforced that there was this gap in funding, and there was a need for a fund that focused on women founders.
CW: We wanted InvestHER to be the catalyst to break down the barriers by providing women a non-threatening destination, not only to receive seed capital but also to receive real feedback. We wanted to equip founders with the table stakes to enter the game and to be prepared to win. We set up our thesis to really focus on the people, to back great women. We want founders to embrace tech-enabled solutions or data-driven products for untapped markets across industry – entrepreneurs who are revenue focused and who can close but can also receive feedback. All our female founders have a passion for selling.
LS: What are some of the challenges that you see among women founders?
CW: We found that a big piece of feedback that early stage founders were hearing [when fundraising] was about traction. We have recognized that scale is so critical to success. It's our mission to provide women founders strategic insights and actionable collateral that investors look for in the due diligence process. We have created a robust set of guidance and tools that have proven effective across markets and across business models, positioning startups with the confidence and preparation for successful fundraising. This helped them to be able to overcome the objections (and potentially the smokescreens that aren't real objections) and find proactive ways to confidently go into a pitch and conquer some of the hurdles that women face around the traction pushback.
We have created a three-prong process designed to assist founders with a construction of an operating system that consists of pre-sale, sale and post-sale revenue stream. We have modules, which we have been providing to the last three WiSTEM cohorts, around business development preparation, success setting and activation, recurring revenue KPIs as well as relationship management and growth planning tools. With those components, we are able to offer assistance and provide feedback on the development of a customer acquisition strategy as well as infrastructure and reporting tools that are so important to get to the AR projections that these VCs are looking for.
LS: What motivated you to offer your support to the WiSTEM program?
GK: WiSTEM is a great partner because you have create a structured environment for women founders to gain the knowledge and skills to develop their ideas into viable companies. By meeting on a weekly basis, these founders not only learn from each other, but provide extra support for the other women in the cohort. We can participate in both the learning and the support, and watch these companies grow.
CW: Last week I spent three and half hours with the current cohort for their first pitch practice, and I was just blown away with the caliber of leadership. Both Gerri and I have a genuine desire to help women prosper and really enjoy their success. We are so committed to providing the support, the time and the devotion to every woman going through the WiSTEM program. We believe in delivering actionable feedback and delivering transparency, encouragement and live counsel. And to find a partnership that really shares the same values is so critical to the mutual success of both our initiatives.
LS: How can a women founder connect with InvestHER?
GK: We are happy to talk to any woman starting a company, especially a company in the tech space. You can reach us here: http://www.InvestHERventures.com/