WiSTEM, 1871's accelerator program for women-founded businesses, will be receiving a $50,000 grant from the Small Business Administration for the second year in a row through the SBA Growth Accelerator Fund Competition. WiSTEM is one of 20 programs nationally to receive a grant totaling $1 million combined.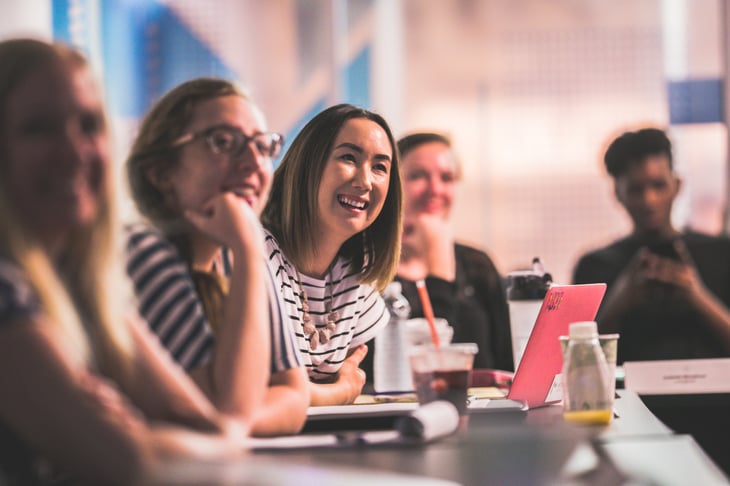 WiSTEM's fifth cohort in a workshop with 1871 CEO Howard A. Tullman.
Now in its fourth year, the nationwide SBA competition seeks to direct funds and resources towards accelerators, incubators, and other entrepreneurial ecosystem models that support small businesses. It requires an extensive and thorough application process, and winners are selected through a two-tier panel review process with experts in business, entrepreneurship, and investing.
"We are thrilled and consider this a massive achievement. Every year there are more incredible programs competing for fewer funds, so for our efforts to be recognized and supported by organizations like the SBA for the second year in a row is a true testament to the WiSTEM program's viability, growth, and impact on the city's economy." —Lakshmi Shenoy, Vice President of Strategy and Business Development, 1871
In accepting this award, 1871 commits to bi-annual reporting for one year on specific metrics, including jobs created, funds raised, services and products launched, and corporate sponsors secured. The insights gleaned from this data will be used by the SBA to develop more impactful relationships with the awardees of the grant and entrepreneurial communities overall.
Since its inception in September 2015, the WiSTEM program has completed five cohorts, helped 64 companies and 72 women entrepreneurs, who have raised more than $10 million in capital, created more than 250 jobs, and developed major partnerships with WBDC and InvestHer. WiSTEM alumni have also moved on to other accelerator programs such as 500 Startups, TechStars and YCombinator, hired C-level talent through 1871's recruiting program, and won state and national awards and cash prizes for their business ideas, including first place at AlphaLab Gear National Hardware Cup (Mohop), first place at the Southside Pitch Competition (KaZoom Publishing), and the Up and Comer Award at the Chicago Innovation Awards (Proxfinity). Two WiSTEM companies were also named among the Top 3 in the BMO Partnership Program (Genivity and SpringFour).
The WiSTEM program, led by co-facilitators Jessica Williams and Ms. Tech founder Nicole Yeary, involves a rigorous 12-week curriculum built on three pillars: technology, community, and capital. Weekly sessions cover topics from leadership and personal development to business modeling, fundraising strategy, and how to build a board, among many others. Each cohort culminates in a showcase event where cohort members pitch their businesses to the Chicago tech, business, and investment community. The cash grant from the SBA will be used to further develop and curate top-tier programming for WiSTEM participants, including exclusive events, workshops, and roundtables led by industry experts and women technology and business leaders.
"In launching WiSTEM, we set out to fill a major gap in the Chicago entrepreneurial landscape. With this grant, we'll be able to continue to expand our reach and support even more women in the goal of making Chicago the most hospitable city in the world for female founders." —Jessica William, WiSTEM Co-Facilitator
Learn more about WiSTEM here.