1871, the world's #1 private business incubator, and mHUB, the nation's largest and fastest growing physical product innovation center make partnership official, offer members of both entrepreneurial centers access to reciprocal memberships.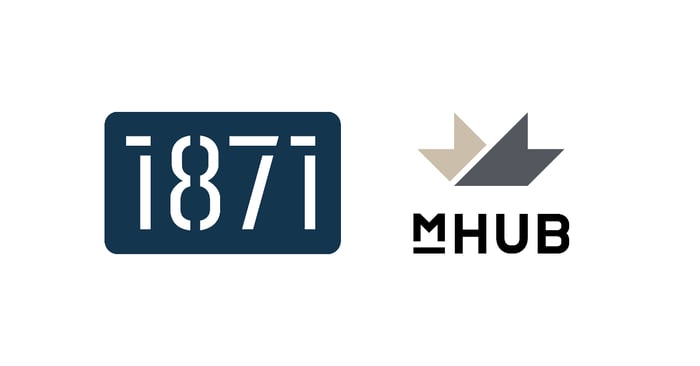 CHICAGO (JANUARY 28, 2020) – To further support ongoing collaboration and strengthen connections across Chicago's startup ecosystem, 1871 and mHUB are announcing an official partnership to provide reciprocal memberships at a highly discounted rate. Members of each incubator will now be able to take advantage of a half-off discount when joining the other organization.
This partnership is a natural progression for 1871 and mHUB, as both are deeply supportive of other like-minded organizations that bolster innovation in Chicago. mHUB also offers reciprocal access to MATTER, 2112, among other community organizations as does 1871 with The Connectory. Due to these efforts, Chicago continues to grow as an inclusive and supportive global hub for entrepreneurship, with the growth of the tech industry leading against other sectors.
"What makes Chicago's tech ecosystem unique is that we reach across the boundaries of our organizations and work together to strengthen opportunities and resources for startups," said Haven Allen,Co-Founder and CEO mHUB. "The partnership with 1871 will open up opportunities for both of our membership bases and brings together world-leading talent in both digital and physical product innovation to drive the development of disruptive technology."
Members of both communities have had a tremendous impact on the regional economy. Since its inception in 2012, 1871 members have raised over $1.5 billion and created more than 11,250 jobs. At mHUB, members have generated more than $100 million in revenue and launched more than 930 products since opening day in March 2017. By fusing the digital and hardware focuses of 1871 and mHUB respectively, these two communities can now create collisions that will drive collaboration and bring industry 4.0 innovation to Chicago.
"With the convergence of different technologies ⁠— like artificial intelligence and 3D printing ⁠— coming together to better solve problems and create new businesses, the Chicago tech community needs to partner to best serve the needs of our entrepreneurs," said Betsy Ziegler, CEO of 1871. "We are excited to partner with mHUB to ensure our collective membership has access to the "best of the best" peers, resources, and other support to increase the probability of their success."
Today, Chicago's more than 4,000 digital companies represent growth of more than 270 percent in the past ten years. These companies currently collectively employ more than 143,000 people. According to the Bureau of Labor Statistics, tech jobs in the region have grown by nearly 39 percent since 2010.
Partnership Benefits
This offer applies to those with mHUB's shared-workspace membership, granting them access to 1871's Shared membership and vice versa.
With a Shared membership to 1871, early-stage entrepreneurs can:
Gain unlimited access to like-minded entrepreneurs
Set their trajectory with access to all stages of PYROS
Raise the likelihood of collaborative opportunities
Utilize the perks of 1871's Member Portal & Slack workspaces
Keep their team lean and mean until they're ready to scale with access to a cross-functional advisory from our mentors and Team 1871
Access our creative network of media specialists
Share their exciting news across our platforms
Recruit their team under 1871's umbrella
Ensure their team's wellness with 1871's health benefits options
With a Shared Workspace membership to mHUB, early-stage entrepreneurs can access:
10 specialty prototyping labs, utilize Fusion360 and SolidWorks
Mentors and stakeholders with the ability to set members up for success
Business and technical training resources
All mHUB events with exclusive discounts to events by mHUB partners
Manufacturing and supplier connections
Free design, CAD/CAM software licenses
Event space, conference rooms, and classroom space
Discounted rates will take effect immediately for current and new members of 1871 and mHUB. Discounts apply to shared memberships at 1871 and coworking access to mHUB.
For further questions on mutual memberships or to sign up for one, please contact membership@1871.com or mHUB membership@mhubchicago.com.
###
About 1871
1871 is Chicago's digital technology hub and the #1 ranked private business incubator in the world. It exists to inspire, equip, and support founders building extraordinary businesses. Located in the historic Merchandise Mart, 1871 is home to ~450 technology startups and ~1,500 members supported by an entire ecosystem focused on accelerating their growth and creating jobs in the Chicagoland area. The nonprofit organization has 350 mentors available to its founders, alongside access to more than 100 partner corporations, universities, education programs, accelerators, venture funds and others. Since its inception in 2012, more than 650 alumni companies are currently still active, have created over 11,250 jobs, and have raised more than $1.5 billion in follow-on capital.
About mHUB
mHUB is the nation's largest and fastest growing innovation center for physical product development and manufacturing. mHUB is a community of product designers and developers, entrepreneurs, engineers and manufacturers, a network of manufacturing mentors, industry experts and investors and a source of intellectual and economic capital. mHUB is home to more than $5 million in resources including ten unique prototyping labs and microfactory for onsite low-volume production runs. Learn more at mHUBChicago.com.