1871 announced today that The Hatchery will join 1871 as a partner in scaling ChiBuys, an 1871 program which aims to direct catering expenditures towards diverse and woman-owned food vendors throughout the city.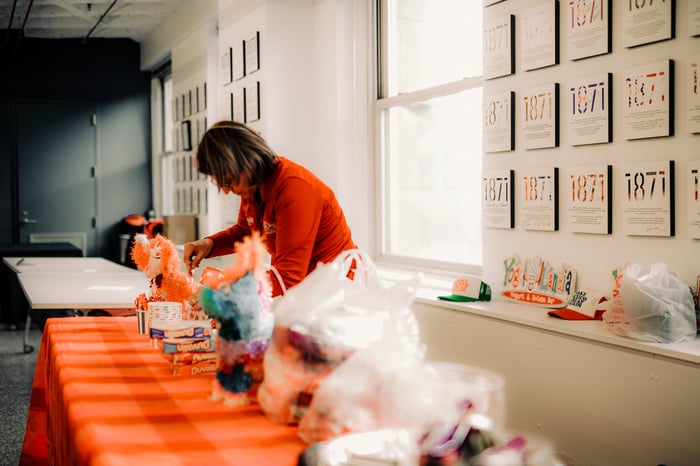 .
A joint venture between three of Chicago's most prominent nonprofits - Accion Chicago, Industrial Council of Nearwest Chicago (ICNC), and IFF -- and supported by the City of Chicago, The Hatchery is a business incubator focused on food and beverage startups, and is scheduled to open its doors in Fall 2018 in East Garfield Park. As a part of the partnership, The Hatchery will help source food vendors from its member community to participate in ChiBuys, which gives the vendors access to 1871's immense network of potential customers through 1871 events, meetings, and inclusion in 1871's recommended vendor list which is circulated to members and corporate and community partners.
No stranger to food startups, 1871 is also home to the Good Food Accelerator (GFA), a cohort-based program facilitated by Family Farmed. Family Farmed is a non-profit organization which helps emerging food and farm entrepreneurs expand their businesses focused on locally and responsibly produced food. Their mission to use good food practices to advance the health and economic well-being of Chicago's communities is reflected also in the ChiBuys program's core values of uplifting the city's diverse neighborhoods.
In launching ChiBuys, our goal was not simply to boost business and visibility for diverse caterers in the short term, but to spark an attitudinal change in how we as a city choose to spend our money," said 1871 CEO Howard A. Tullman. "We have demonstrated that this type of change is absolutely achievable, but that to scale and have a real impact, it needs to be a community effort. Working with The Hatchery to identify high-quality, locally built businesses is a perfect example of the Chicago community joining us to make ChiBuys a city-wide movement. —Howard A. Tullman, CEO, 1871
Over 30 food vendors have joined ChiBuys to date, and the list continues to grow. From homemade baked goods to ethnic cuisines to social impact focuses behind the food, ChiBuys vendors help drive the local economy and embody the entrepreneurial spirit of both 1871 and The Hatchery. The Hatchery -- already conducting programming with 60 food and beverage startups -- will soon be home to a number of dynamic companies that will further expand the ChiBuys roster.
We feel that baking diversity and inclusion into the essence of how Chicago does business is both essential and inevitable," said Natalie Shmulik, CEO of The Hatchery. "We are thrilled to be partnering with 1871's ChiBuys program which aligns strongly with our mission to help support local entrepreneurs and small business owners. —Natalie Shmulik, CEO, The Hatchery
Businesses and community organizations can sign on as a ChiBuys partner and by doing so, take the pledge to do any or all of the following: 1) order from ChiBuys vendors for their catering needs, 2) share the ChiBuys vendor list with colleagues, clients, family, and friends, 3) host an introductory luncheon to acquaint ChiBuys vendors with their internal teams, and 4) attend 1871's quarterly ChiBuys tastings which showcase a variety of vendors. See more information here.
Chicago entrepreneurs, innovators, and small businesses are the economic engines that make our city run. By partnering to support local women and minority food vendors, 1871 and The Hatchery will drive more business to local companies and help extend economic growth and opportunity across Chicago. —Mayor Rahm Emanuel
Is your corporation interested in plugging in to our community? Learn about our Corporate Membership.