The Best Programs in the World have Been Announced at the World Incubation Summit in Doha, Qatar; 1871 takes home two distinct awards: World #1 Private Business Incubator and Most Promising - Women Founders.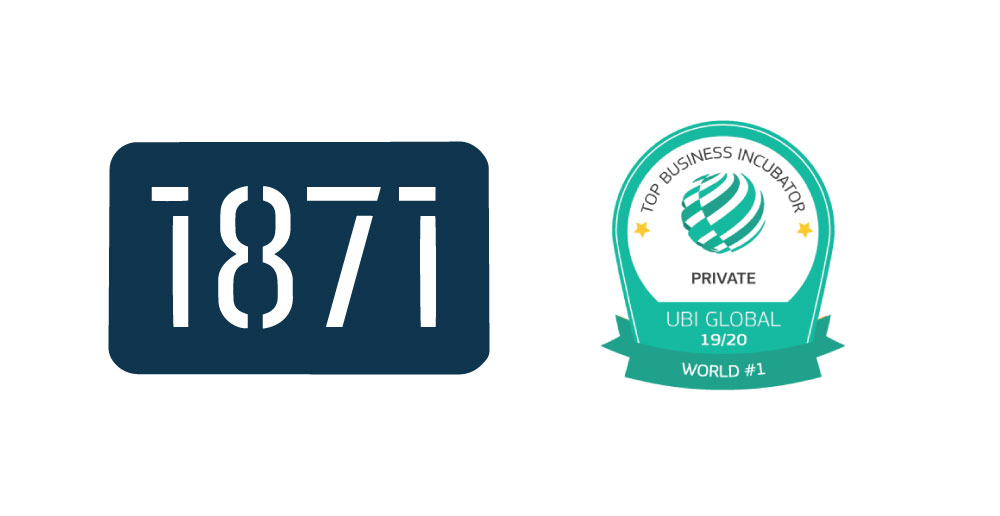 DOHA, QATAR, November 6, 2019 - 1871 was recognized at the World Incubation Summit in Doha, Qatar on November 6 for achieving the status of World #1 Private Business Incubator and Most Promising - Women Founders. UBI Global, the Stockholm-based intelligence company and community, known for high-quality intelligence, assessment, and mapping of business incubation, released the top lists of business incubators and accelerators as assessed in the World Benchmark Study 2019 -2020. The recognitions and announcements took place at the World Incubation Summit 2019 in Doha, Qatar on November 6. This year's event was hosted by Qatar Development Bank.
Achievement of the number one status among peer programs, as assessed by UBI Global, means that 1871 demonstrates exceptional value for client startups, value for the local ecosystem, and overall attractiveness as a program.
"This wonderful and well-deserved recognition is a testament to the energy and dynamism of our tech community and the result of countless individuals working together to make Chicago the global leader in entrepreneurship and innovation that it is today," said Mayor Lori E. Lightfoot. "As we move forward into the future, we will be building on our success by strengthening our capacity downtown and expanding our reach further into Chicago's educational institutions, neighborhoods, and communities, ensuring that every entrepreneur can take their great idea and have it drive our economy, transform our lives, and change the way we see the world."
"It is absolutely amazing to be recognized as the #1 Private Business Incubator in the world, as well as receiving the award for being the most promising incubator for women founders. Being honored by UBI Global is a tribute to the tenacity and passion of every founder, partner, mentor and member of the 1871 community," said Larry Eppley, CEC and 1871 Board Chairman and Managing Partner of the Chicago office of Sheppard Mullin. "We work hard every day to ensure that Chicago's entrepreneurs are representative of all of the city's diverse neighborhoods and that access to success is universal. These awards reflect our steadfast commitment to support founders, the Chicago tech ecosystem, and the regional economy."
This year, 364 programs located in 78 countries were selected after assessing and validating the data received from programs seeking knowledge about themselves through the study. One of the outcomes of the benchmark study is identifying top incubator and accelerator programs, which include the following categories:
World Top University Business Incubators

World Top Public Business Incubators

World Top Private Business Incubators

World Top University Business Accelerators

World Top Public Business Accelerators

World Top Private Business Accelerators
"Following a rigorous data-driven approach, we assessed and benchmarked incubation programs across the world," says Holger Meyer, Director of Research at UBI Global. "Our World Benchmark Study 2019 - 2020 is in tune with the multiple facets of the international incubation ecosystem and illustrates key challenges and opportunities faced by the participating programs."
Since its inception in 2012, 1871 has had an extraordinary impact on the local landscape that continues to grow. The technology hub is home to 450 member companies, 650+ active Alumni companies, seven university partners, 100 corporate and community partner organizations, alongside a number of accelerator programs and early-stage venture firms. 1871 alumni have raised over $1.5+ billion and have created more than 11,250+ jobs.
"We are exceptionally honored to be recognized by UBI Global as the #1 Private Business Incubator in the world," said 1871 CEO Betsy Ziegler. "The center of our gravity, as an organization, are the founders building extraordinary businesses. The 1871 team and board are here to inspire, equip, and support those startup founders as they build extraordinary businesses. We will continue to build upon the foundation of offering those companies a world-class suite of educational resources, state-of-the-art technology, and access to an immense network of mentors, corporate and university partners, and community organizations that are dedicated to their success. We are looking forward to a bright future of continuing to make Chicago the best place in the world to build a business."
1871's WiSTEM accelerator program for women founders is now in its 10th cohort, and the Latinx Incubator, a joint accelerator for Hispanic entrepreneurs is hosted in partnership with the Illinois Hispanic Chamber of Commerce (IHCC). Along with the accelerator programs, 1871 continues to make diversity, equity and inclusion a core focus in all recruiting efforts, events, programming, membership, and day-to-day initiatives. As Chicago's digital technology town hall, the tech hub hosts hundreds of high profile events every year, including International Women's Day events and programming, as well as Policy Forums in partnership with the Kauffman Foundation including the upcoming Diversity and Inclusion forum.
With a focus on community, 1871 attracts investment and talent from within and outside of its geographic area in the United States' Midwest. To foster innovation and assist our startups to solve hard problems, 1871 develops relationships between local stakeholders, startups, and large corporations. The technology hub has built an environment where larger institutions and corporate partners collaborate to invest in local businesses and share innovative new ideas. Furthermore, 1871 continues to cultivate economic and business development in Chicago through guidance and support for the area's aspiring entrepreneurs and young companies.
The UBI Awards & Recognition Gala took place at the Museum of Islamic Art, an amazing facility with art on display from three continents spanning 1,400 years worth of history. The top lists of programs were each recognized for outstanding performance in nurturing entrepreneurship and innovation.
For full rankings please visit: ubi-global.com/rankings
About 1871
1871 is a not-for-profit organization that exists to inspire, equip, and support founders to build great businesses. It is the #1 ranked university-affiliated business incubator in the world, and the home of ~450 high-growth technology startups and ~1,500 members supported by an entire ecosystem focused on accelerating their growth and creating jobs in the Chicagoland area. Located in a 140,000 square-foot space in The Merchandise Mart, 1871 has 350 current mentors available to its members, as well as more than 100 partner corporations, universities, education programs, accelerators, venture funds and other organizations that make its extensive matrix of resources possible. For more information about 1871, visit www.1871.com.
About UBI Global
UBI Global is a Swedish-based intelligence company and community specializing in mapping, highlighting, and connecting the world of business incubation. Through a network of more than 1.000 member organizations from over 90 countries worldwide, UBI Global provides matchmaking, ranking, benchmarking, and research services to corporations and business incubation programs.
Previous results from UBI Global's studies have been featured on BBC Radio, The Chicago Tribune, Le Figaro, Der Standard, The Huffington Post, The Irish Times, France 3, and many other media outlets around the world.
About QDB
Qatar Development Bank offers financial and advisory services to develop and empower Qatari entrepreneurs and innovators to contribute to the diversification of the Qatari economy, through successful small and medium enterprises that are able to compete in global markets.