Chicago Mayor Rahm Emanuel stopped by 1871 last week to record the first live episode of Chicago Stories -- his weekly podcast -- with 1871 CEO Howard A. Tullman. The two local titans shared their thoughts on tech, entrepreneurship, and the importance of learning from failure and from life in front of a packed audience. In case you missed it, here are some of our favorite moments and highlights from the episode.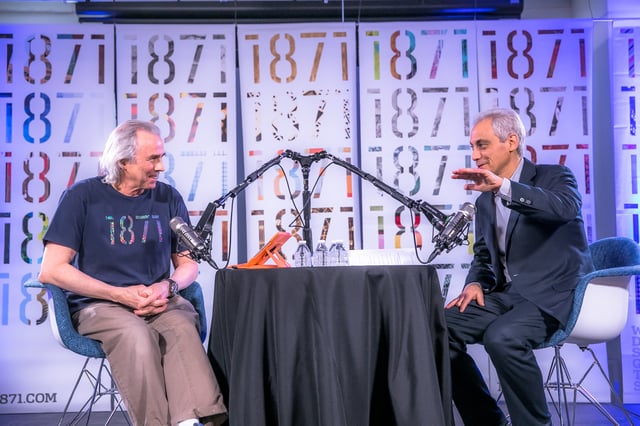 1871 CEO Howard A. Tullman and Chicago Mayor Rahm Emanuel share a laugh as they kick off the podcast with friendly jokes and jabs.
When most people think of innovation and tech, they probably envision Silicon Valley. While Silicon Valley is certainly a tech mecca, the reality is that Chicago isn't too far behind -- especially when you consider that 1871 recently ranked first in the world in a global study of more than 1,300 incubators. The recent achievement, along with all of 1871's work in building Chicago's tech and entrepreneurship community, prompted city Mayor Rahm Emanuel to stop by and interview 1871 CEO Howard A. Tullman for his first ever live podcast. Here's our recap of the event.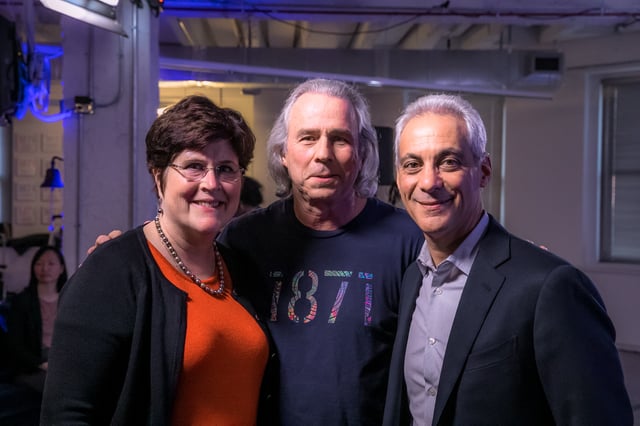 1871 Board Member and Executive Director of the Illinois Venture Capital Association Maura O'Hara takes a photo with Tullman and Mayor Emanuel.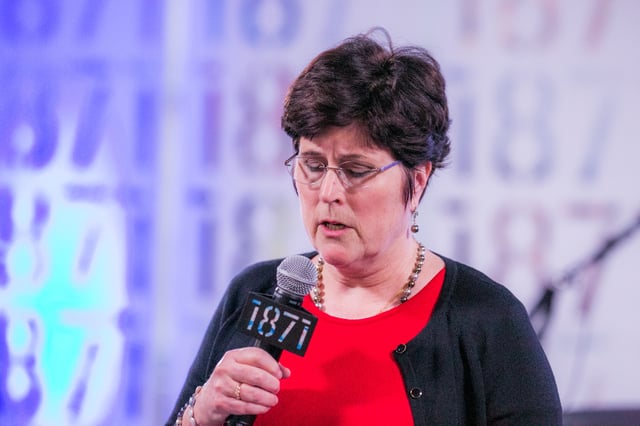 O'Hara shares her welcoming remarks with the audience and introduces Tullman and Mayor Emanuel to the stage.
"The reason that we have the number one incubator in the world is because of everyone in this room. It takes a village." – Chicago Mayor Rahm Emanuel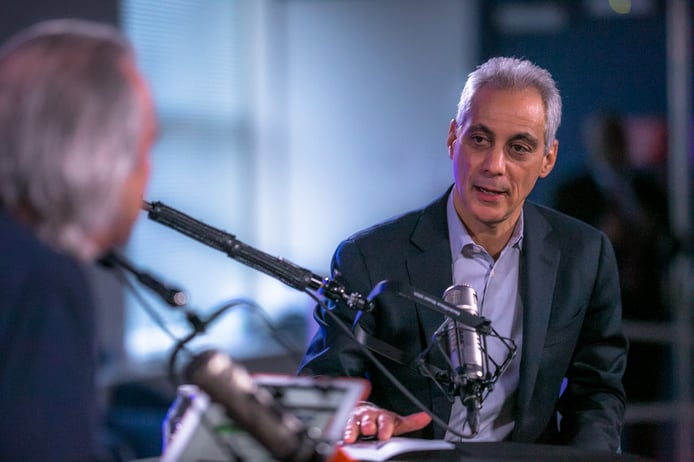 Mayor Emanuel and Tullman discuss 1871's many contributions to Chicago's tech, innovation, and business communities.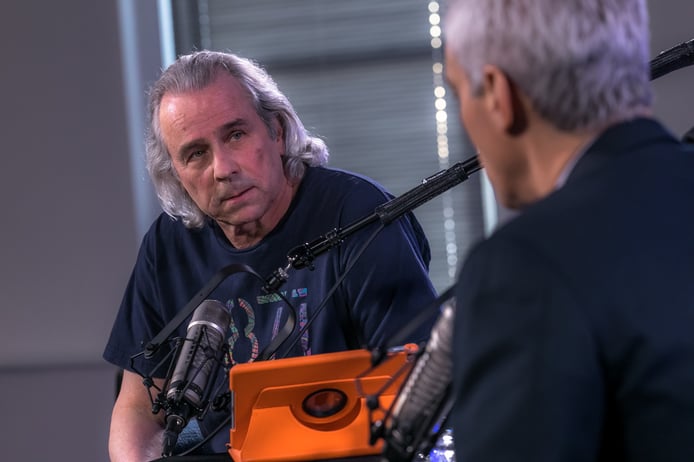 Tullman shares his thoughts on 'failing forward,' a valuable mindset for entrepreneurs and business leaders.
Entrepreneurs should always try to fail foward, which is when you make mistakes and learn from them. It's when you take the good lessons and the bad lessons and you apply them -- but you don't want to dwell on them. Entrepreneurs do not look backwards. We call this 'in-game amnesia.' If you're focused on what's happened in the past, whether it's the shot you missed or an opportunity that you missed, then you're not paying attention to what's ahead." – Howard A. Tullman, CEO, 1871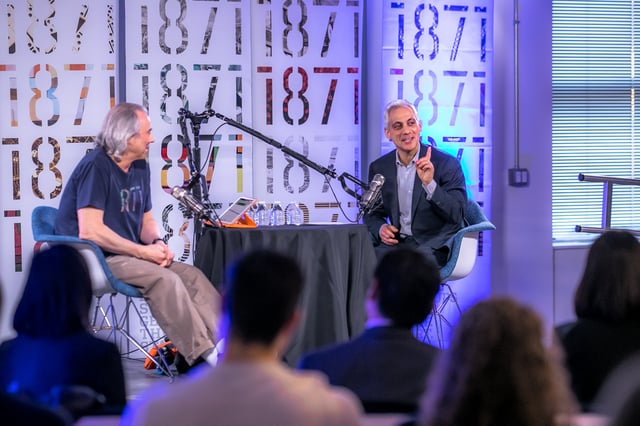 Mayor Emanuel and Tullman take questions from the audience before heading into a rapid-fire Q&A round.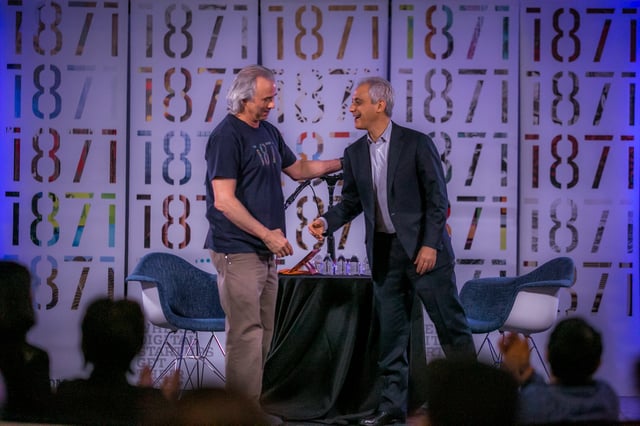 Mayor Emanuel wrapped up the episode by recognizing and celebrating Tullman's many achievements.
"Howard, you could have done anything as a successful entrepreneur, but you chose to give -- to bring the culture of entrepreneurship to our youth just like you did when you helped the students at Dyett High School learn about tech and business. A lot of people who are successful like to give lectures but you give back. You're providing our youth and our city with intellectual capital." – Chicago Mayor Rahm Emanuel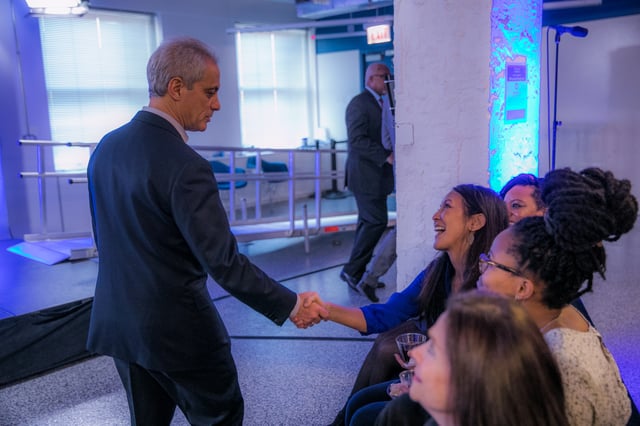 After recording the podcast, Mayor Emanuel met with members of the 1871 community.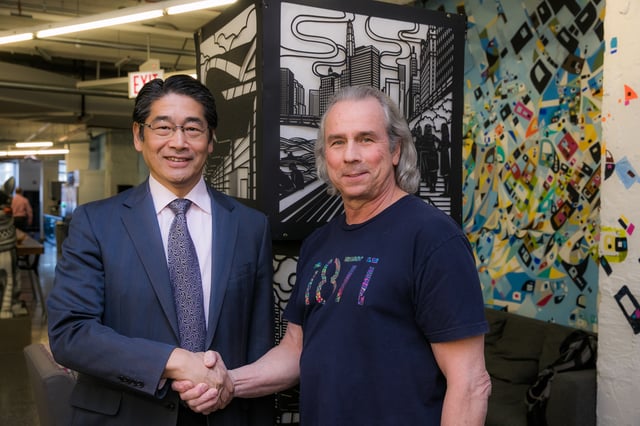 Naoki Ito, the Consul General of Japan in Chicago, congratulates Tullman on 1871's ranking as the number one incubator in the world.
"Chicago has a number of advantages over other cities when it comes to starting a business, but most of all, we have a collaborative environment where our entrepreneurs help one another. Everyone here lends a hand forward and backwards to support each other." – Howard A. Tullman, CEO, 1871
Interested in hearing about the latest developments in Chicago from the Mayor? Listen and subscribe to the Chicago Stories podcast on Apple Podcasts, Soundcloud and Spotify.