Today marks the official launch of 1871.Live, a new streaming platform that will bring more than 17,000 hours of entrepreneurial and business-focused educational programming to multiple community center partners across the city. 1871 is one of eight community organizations awarded a grant by ChicagoNEXT and the Blackstone Charitable Foundation for the 2017 Blackstone Inclusive Entrepreneurial Challenge.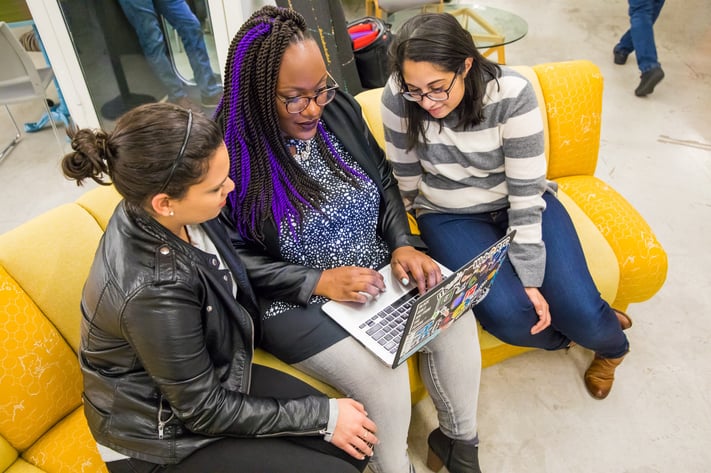 (Left to right) Emily Santos, Diversity Coordinator, 1871; Tiffany Mikell, Founder, AerialSpaces; Lakshmi Shenoy, VP of Strategy and Business Development, 1871. From the Blackstone grant application through the development of the 1871.Live platform, the 1871 team saw the process through from start to finish and will offer ongoing support.
1871.Live further expands 1871's educational offerings, making live and recorded content available to entrepreneurs who are participating in programs hosted by select community centers, including Good City, The Chicago Urban League, Pastor Corey Brooks' Project H.O.O.D., Bethel New Life Church, and Little Village Chamber of Commerce. The program aims to make 1871's world-class programming more accessible and inclusive to community members seeking to hone their skills in areas like strategy, marketing and sales, product and technology, and human resources.
"Diversity and inclusion, along with education and inspiration, are core pillars of 1871's mission, and 1871.Live is a strong addition to our efforts to further strengthen both. We're proud to be among the organizations presenting innovative solutions as part of the Blackstone Inclusive Entrepreneurial Challenge and look forward to further expanding 1871's educational offerings outside our four walls." —Howard A. Tullman, CEO, 1871
The Blackstone Inclusive Entrepreneurship Challenge is managed by ChicagoNEXT of World Business Chicago (WBC) as part of their efforts to invest in entrepreneurship, new ventures and job creation with a deliberate focus on inclusion.
"A strong and inclusive entrepreneurial community begets a strong and equitable local economy," said Jimmy Odom, Director of Inclusive Entrepreneurship for ChicagoNEXT. "It is both imperative and in our collective interest to ensure that communities that have been traditionally marginalized are getting the resources they need to build and scale their startups right here in Chicago." —Jimmy Odom, Director of Inclusive Entrepreneurship, ChicagoNEXT
1871.Live's partner organizations will receive the content through an online platform provided by AerialSpaces, an alumni company of WiSTEM, which is 1871's accelerator program for women-founded businesses. The programming can be viewed live or replayed by anyone at the partnering organizations with a login. Each organization will work closely with the 1871 programming team to curate the subject areas and workshops that will be most beneficial to its members.
"AerialSpaces is thrilled to partner with 1871 and these amazing community organizations to more widely spread educational content and inspire Chicago's aspiring entrepreneurs," said Tiffany Mikell, Founder and CEO of AerialSpaces. "The ability to easily create unique and immersive live online experiences makes 1871.Live a perfect use case for our software." —Tiffany Mikell, Founder and CEO, AerialSpaces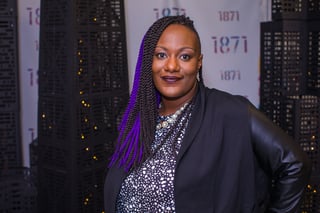 Mikell has been actively contributing to the local entrepreneurial education ecosystem for almost a decade. In 2006, she launched her career as an engineer at Accenture after being one of the earliest graduates of i.c.stars, a fellow recipient of the Blackstone grant. Serving as Alumni Association President for seven years, Mikell played a key role in helping i.c.stars expand the then four-month internship into a unique two-year program that helps young adults develop advanced technical and leadership skills. Mikell attended one of the first workshops hosted at 1871 in 2012 -- a Lean Startup Bootcamp.
Completely inspired, Mikell joined the founding team of Dev Bootcamp Chicago. In 2015, together with current Co-Founder Kortney Ziegler, Mikell accidentally built the prototype for AerialSpaces while creating InclusiveDev -- a virtual conference for underrepresented entrepreneurs which featured both national and local founders like The Startup League Co-Founder Mike McGee, Ms. Tech Founder Nicole Yeary, and Emile Cambry, Founder of BLUE 1647, another Blackstone grant recipient.
"For me as a founder, one of the most valuable aspects of participating in the WiSTEM program was being able to ask experts specific questions in real time. Knowing that my startup is helping to facilitate accessible and real-time connections between 1871 programming and communities all around the city makes this an exciting, full-circle moment for me." —Tiffany Mikell
The 1871.Live platform and content are provided free of charge to the participating community partners. Like 1871's on-site workshops which are available to all members, programming on 1871.Live spans the gamut of focus areas most valuable to entrepreneurs, including strategy, financial, marketing, sales, product and technology, hiring, legal and fundraising.
"This is a huge step forward as many of our low income communities are often left chasing a train that has already left the station. Top-tier education is a critical component of entrepreneurial success, and we are very much looking forward to seeing the positive outcomes that will undoubtedly emerge from having access to 1871's extensive programming." —Philip Fairweather, Business Innovation and Technology Manager at Bethel New Life
About World Business Chicago
World Business Chicago is a public-private, non-profit partnership that drives inclusive economic growth and job creation, supports business, and promotes Chicago as a leading global city. Chaired by Mark Tebbe, ChicagoNEXT leads WBC's dedicated effort to drive growth and opportunity for Chicago's tech economy through a portfolio of initiatives and programs governed by a council of technology leaders. With the mission to grow Chicago's vibrant tech ecosystem, ChicagoNEXT strategic focus areas include industry, talent, capital and community.